Laird Superfood® and Bunn-O-Matic Corporation: The Laird Superfood Crescendo Machine
Posted on March 5, 2019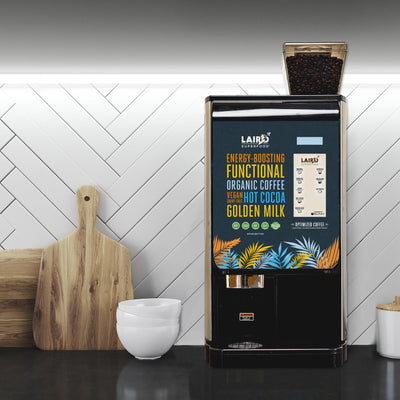 Laird Superfood is proud to announce a partnership with the Bunn-O-Matic Corporation.
Together we have developed a specialized beverage machine that makes superfood lattes easy and accessible. The Laird Superfood Crescendo Machine mixes hot water or brewed coffee with Laird Superfood creamers to create frothy all-natural beverages.
Whether you're after the benefits of a caffeine-free golden milk latte, or you prefer your coffee with mixed with the classic Original Superfood Creamer, this machine allows you to enjoy a cup with one simple press of a button.
Our products will now be readily available in untapped markets, including convenience and grocery stores, corporate offices, hospitals and restaurants.
We can't wait to see the availability of superfood drinks in places they've never been before!
This new machine is officially unveiled at the 2019 Natural Products Expo West. Stop by our booth to find out more and try a cup.