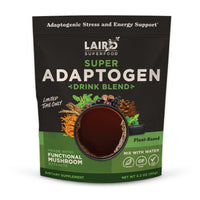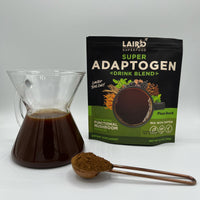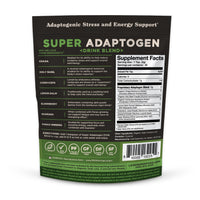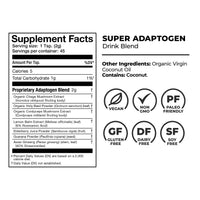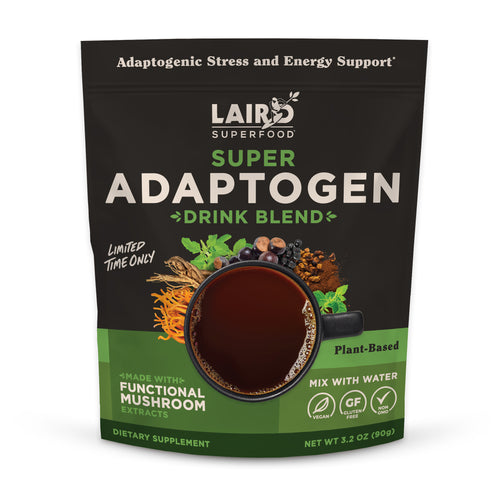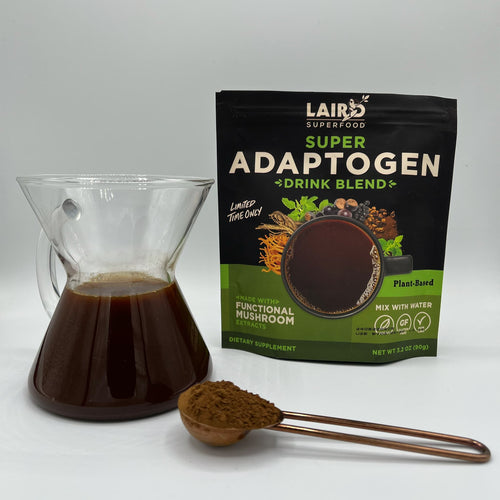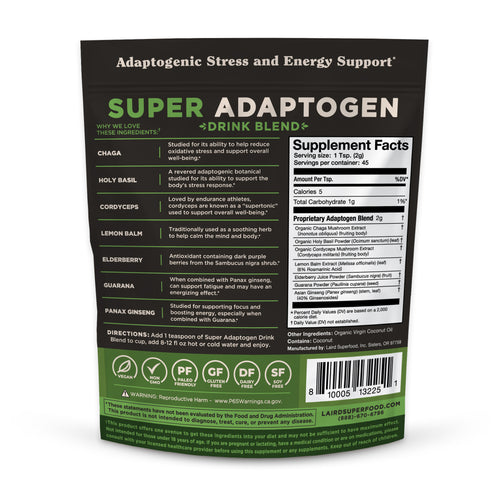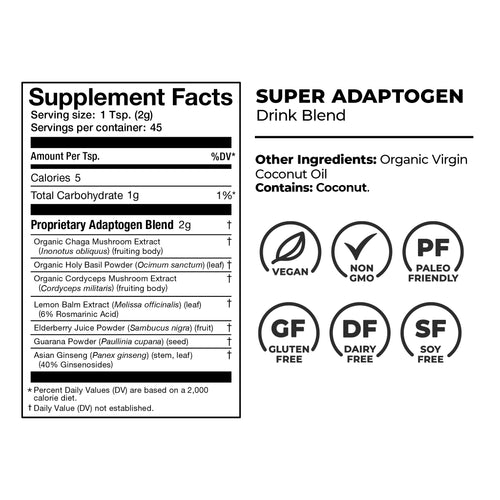 Mushrooms
Super Adaptogen Blend
Adaptogens are researched for their ability to support energy and help the body deal with stress, making this truly functional "anytime" drink a perfect way to start your day, or to stave off the midday slump!
Enjoy the power of seven of our favorite functional adaptogenic mushrooms and herbs like Lemon balm, Holy basil, and Panax Ginseng in one convenient drink. Sip your way to energy and stress support along with antioxidants from real Elderberry!
Every ingredient in this blend was meticulously chosen for its ability to naturally support important body functions. We followed the research to bring you the most optimal blend of seven incredible functional ingredients right at your fingertips (or better yet, right in your cup!).
We expect to ship your purchase within 2-3 weeks.
You will receive an email when this item ships.
Ingredients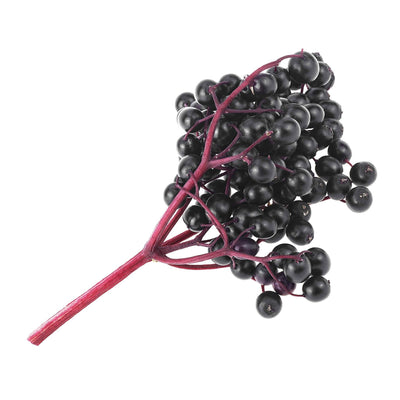 The edible black or dark purple berry of the Sambucus genus of shrubs. Thought to support the immune system, these berries are known for their sweet taste and notable antioxidant content.
Is a small shrub or tree in the Sapindaceae family native to Venezuela and Northern Brazil. Emerging science reports that Guarana seeds combined with Panax ginseng has an energizing effect and may also support fatigue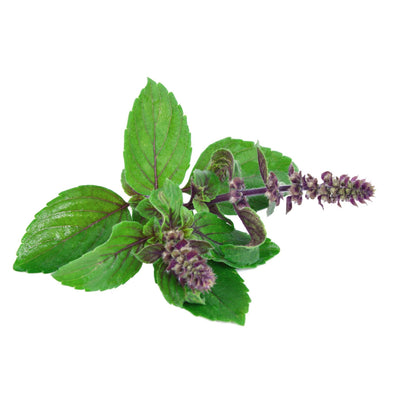 Ocimum tenuiflorum, commonly known as Holy Basil or Tulsi, is a revered botanical native to India. Part of the mint family and a close relative to culinary basil, Holy Basil is traditionally used in Ayruveda and is most valued as an adaptogenic botanical to support the body's stress response.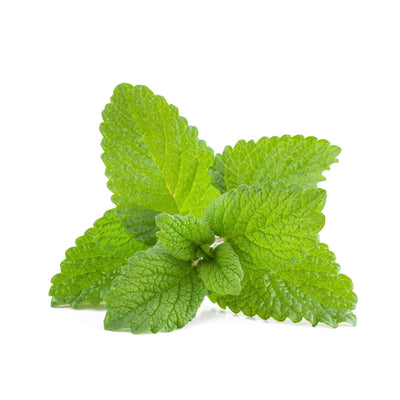 Lemon Balm formally known as Melissa officinalis, and is a lemony-scented aromatic herb that is part of the mint family. Greeks used Lemon Balm over 2000 years ago. Traditionally, Lemon Balm has been used as a soothing herb to help calm the mind and body.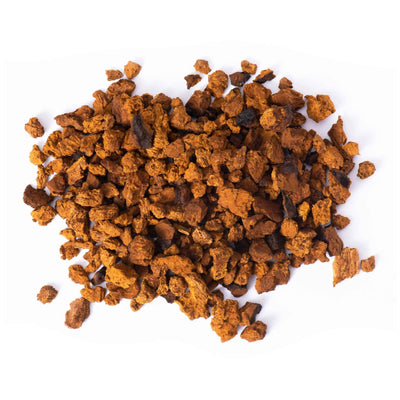 This highly desired mushroom, sometimes referred to as "Chaga Gold" and considered the "King of Mushrooms,'' grows on hardwood trees, primarily Birch trees, and is found in the colder, northern climates. Studied for its support of the immune system, Chaga is a "go-to" for overall well-being.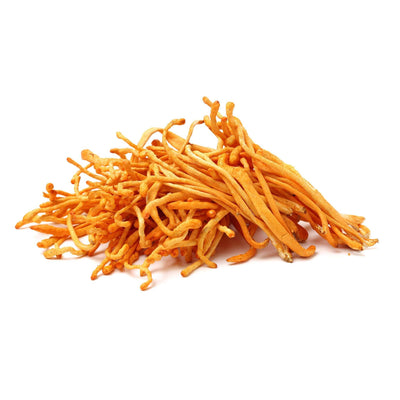 Cordyceps mushrooms were traditionally native high in the mountains of China, but are now found all over, most commonly in Asia. A definite in your daily ritual, this functional mushroom is loved by high endurance performers.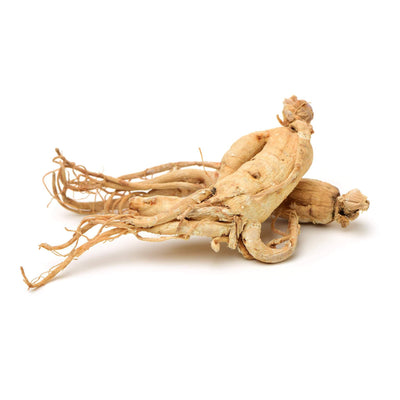 Commonly known as "Asian Ginseng", this plant has been used for thousands of years in Traditional Chinese Medicine. It has been shown to help boost energy and support cognitive focus.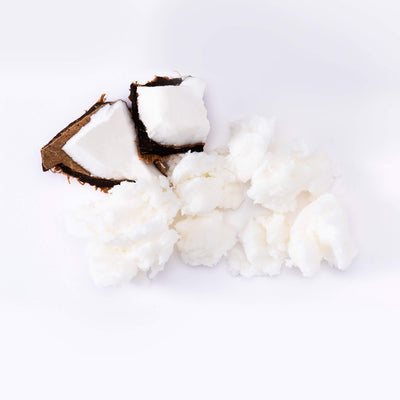 With a light coconut flavor and aroma, Virgin Coconut Oil is derived from the cold-pressing of coconut meat and then the separation of the fats from the coconut milk. Coconut is solid at room temperature and melts around 78 degrees Fahrenheit. Coconut oil is prized for its fatty acid profile.
Others
Delicious, natural taste
We are proud to create products that are not only functional but taste great too.
No "Natural" Flavors
We do not use any artificial colors, flavors, or ingredients. All of our flavor is from real food like cinnamon, turmeric and cacao.
Real food ingredients
We use clean, high-quality ingredients in our products. We do not use seed oils.
Customer Reviews
for Super Adaptogen Blend