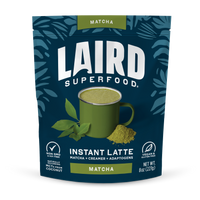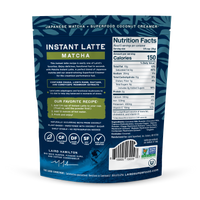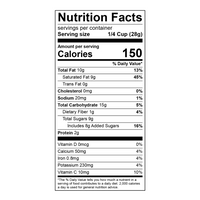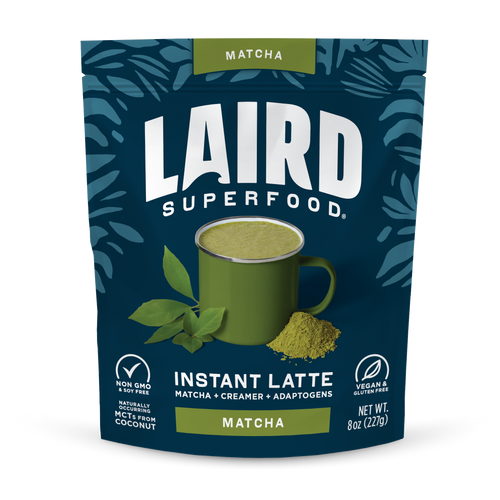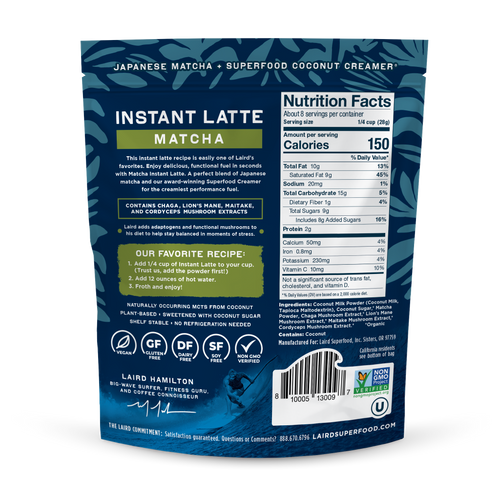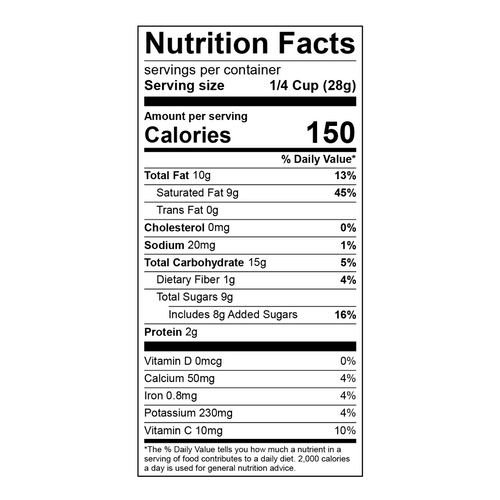 Instant Latte
Matcha Instant Latte with Adaptogens
Previously Named "Matcha Instafuel"
Imagine, a perfect blend of Japanese matcha and our Sweet & Creamy Superfood Coconut Creamer. And now we've added our favorite functional mushroom extracts to bring even more benefit to your match experience. All you need to add is hot water to this mix, and you have a creamy, luxurious superfood Matcha latte in seconds. See the full list of ingredients here.
Imported from the tea fields of Japan with premium matcha flavor
This unique blend of Lion's Mane, Chaga, Maitake, and Cordyceps are a personal favorite of Laird's to help him maintain balance during times of stress.
Naturally occurring MCT (from coconut) + caffeine = lasting energy
Delicious, creamy latte experience
Add 1/4 cup of Instant Latte to your cup. (Trust us, add the powder first!)
Add 12 ounces of hot water.
Froth and enjoy!
Pro tip: Don't limit it just to the cup! This blend works great in recipes as well!
We expect to ship your purchase within 2-3 weeks.
You will receive an email when this item ships.
Quality Matcha, Anywhere
Ready for a superfood matcha latte whenever and wherever you want it? You no longer need a coffee shop (or tons of time) to get a boost of delicious, functional fuel. Matcha Instant Latte with Adaptogens is the perfect blend of authentic Japanese matcha with the inclusion of maitake, chaga, lion's mane, and cordyceps functional mushrooms, all with the creamy smoothness of our award-winning Sweet & Creamy Superfood Creamer. Whether you're at the office or on a remote hilltop, the most delicious performance fuel, ready for you in just seconds!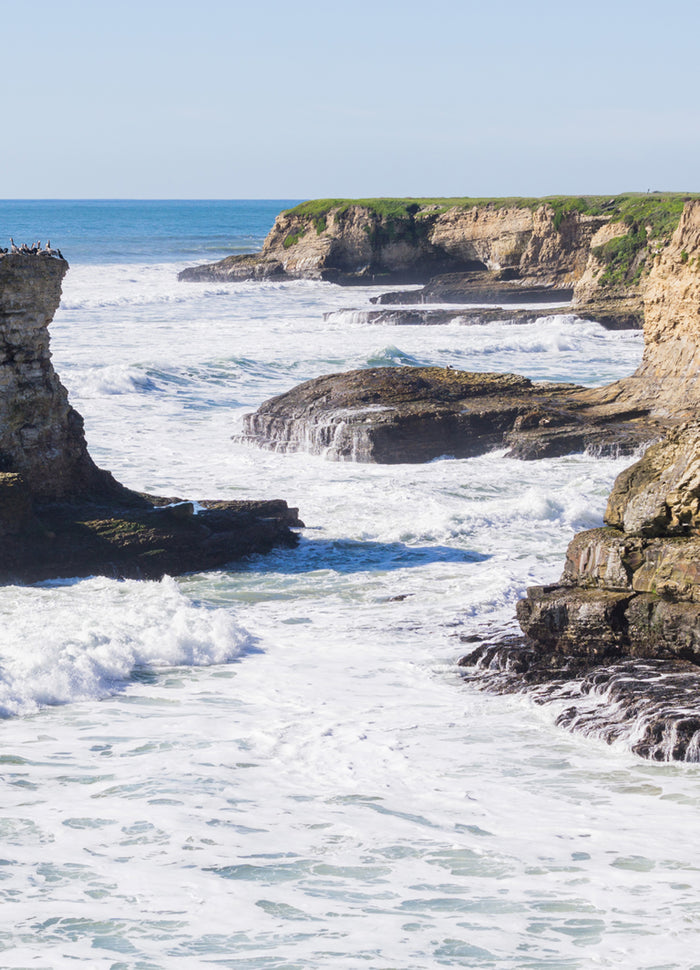 Ingredients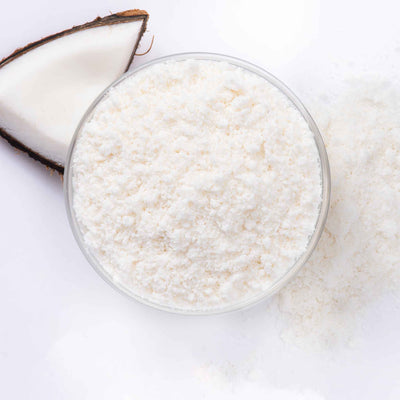 Coconut Milk, a blend of water and coconut cream, is an ideal substitute to traditional milk. Lactose-free and rich in antioxidants, we're only just beginning to understand all the nutritional benefits it offers.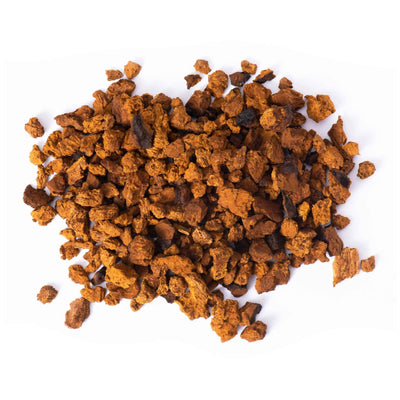 This highly desired mushroom, sometimes referred to as "Chaga Gold" and considered the "King of Mushrooms,'' grows on hardwood trees, primarily Birch trees, and is found in the colder, northern climates. Studied for its support of the immune system, Chaga is a "go-to" for overall well-being.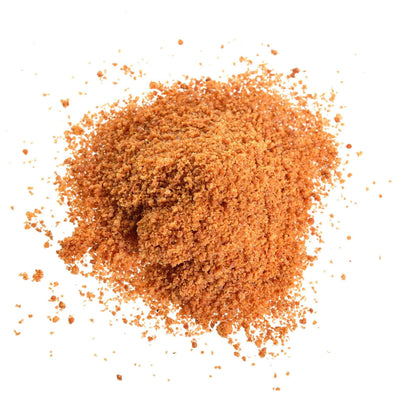 Coconut sugar is derived from the nectar of coconut tree blossoms. Our organic coconut sugar has absolutely no artificial ingredients or preservatives – just 100% pure organic coconut sugar.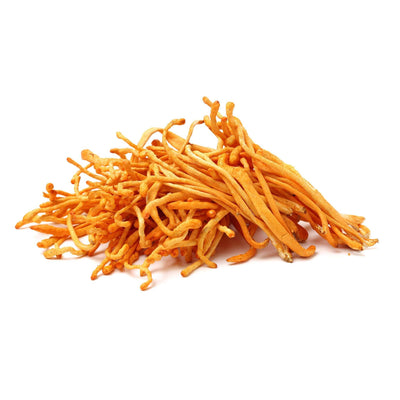 Cordyceps mushrooms were traditionally native high in the mountains of China, but are now found all over, most commonly in Asia. A definite in your daily ritual, this functional mushroom is loved by high endurance performers.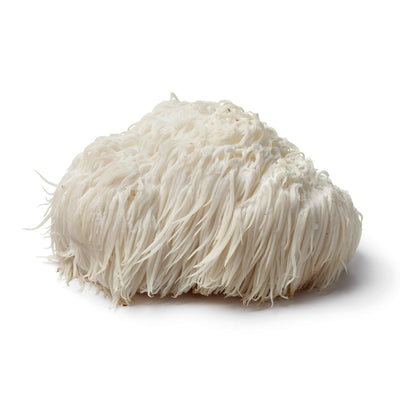 Lion's Mane is an edible mushroom native to North America, Europe, and Asia and is also known as the bearded tooth or pom pom mushroom. Lion's Mane is easily identified by its bearded look. Used for its properties, you won't taste the lion's mane flavor in any of our blends.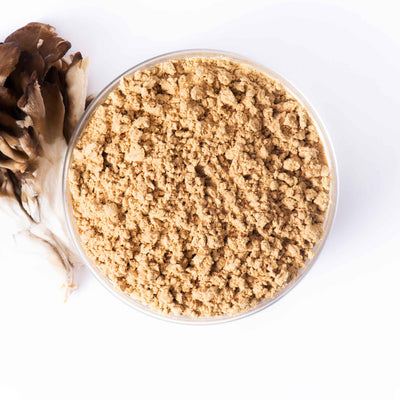 Maitake has been used for hundreds of years in traditional Eastern cuisine and medicine for its support of overall health and vitality. Maitake' means "Dancing Mushroom" in Japanese.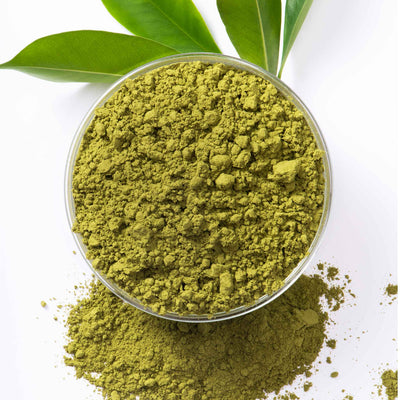 Natural benefits of caffeine, L-theanine (an amino acid known for its calming effect), and EGCG, a powerful antioxidant.
Others
Delicious, natural taste
We are proud to create products that are not only functional but taste great too.
No "Natural" Flavors
We do not use any artificial colors, flavors, or ingredients. All of our flavor is from real food like cinnamon, turmeric and cacao.
Real food ingredients
We use clean, high-quality ingredients in our products. We do not use seed oils.
Customer Reviews
for Matcha Instant Latte with Adaptogens