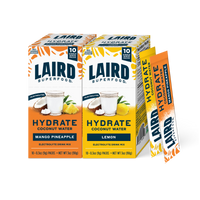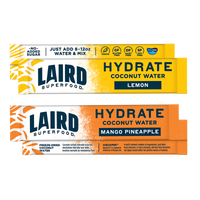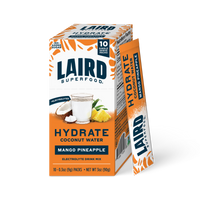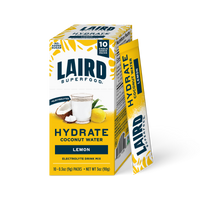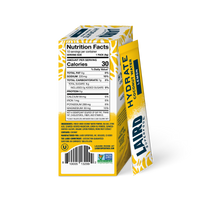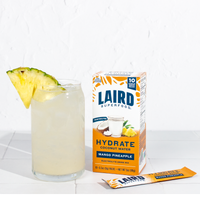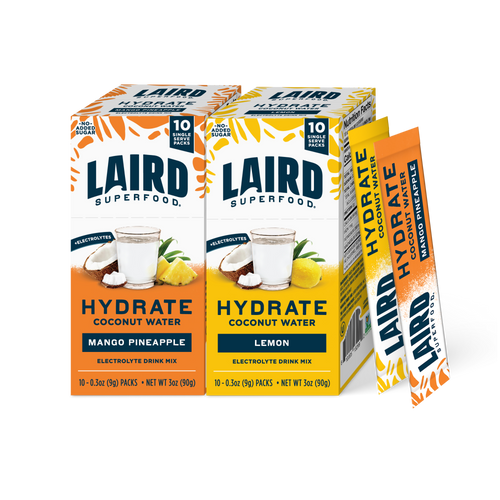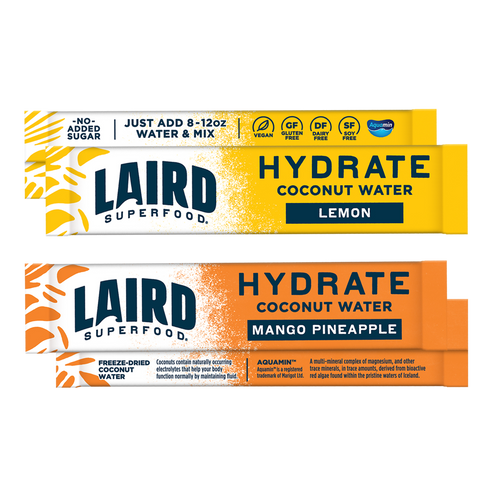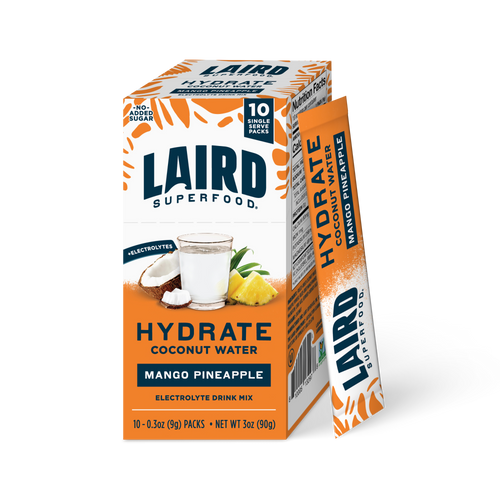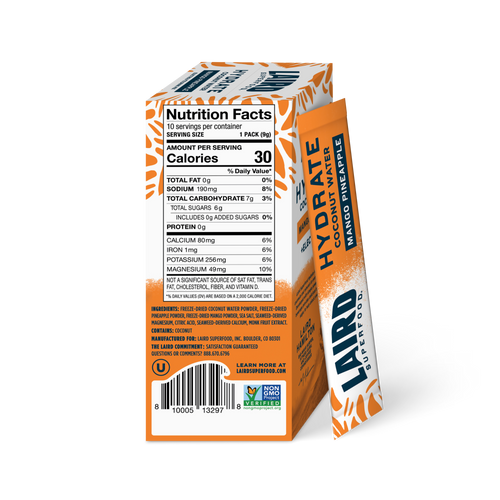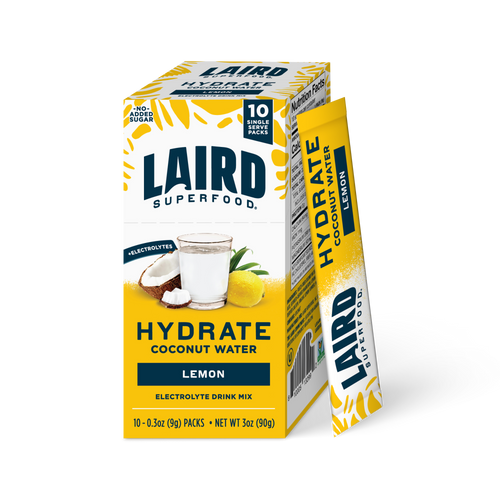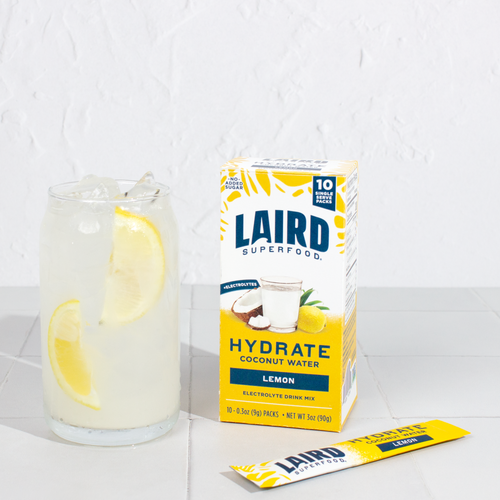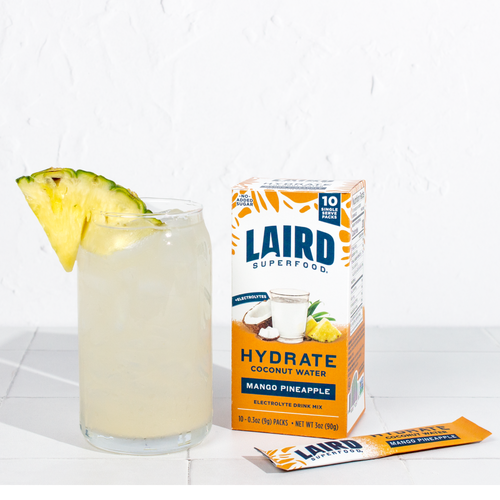 Hydration
Hydrate + Electrolyte Singles
Bring along the perfect portion of natural, nourishing hydration anywhere and everywhere with our all-new Hydrate single sticks. Our on-the-go blend of natural electrolytes and minerals will replenish your body with real-food ingredients, not the added sugars and junk of the competition. Available in lemon or mango pineapple, get ready to pour a pop of hydrating flavor.
Good source of magnesium
Source of naturally-occurring electrolytes
0 grams of added sugars
No "natural" or artificial ingredients
Pour one stick of Hydrate into your glass or water bottle
Add 8 to 12 ounces of cold water
Stir or shake and enjoy!
Mango Pineapple: Freeze Dried Coconut Water Powder, Pineapple Powder, Freeze Dried Mango Powder, Sea Salt, Seaweed- Derived Magnesium, Citric Acid, Seaweed-derived, Calcium, Monk Fruit Extract
Lemon: Freeze Dried Coconut Water Powder, Sea Salt, Citric Acid, Seawater- Derived Magnesium, Lemon Oil Powder, Seawater-derived Calcium, Organic Lemon Powder, Monk Fruit Extract
We expect to ship your purchase within 2-3 weeks.
You will receive an email when this item ships.
Higher Hydration
Staying hydrated throughout the day is key to bring out your body's best. The challenge is drinking water alone can be unsatisfying and most "hydrating" sports drinks are filled with sugar and fake ingredients.
Our all-new Hydrate sticks are the solution you've been looking for. Made with the power of coconuts, natural electrolytes and essential minerals including magnesium, it will supercharge your glass of water into a delicious, refreshing superfood.
And with the new, convenient single-serve sticks, you can easily take this powerhouse blend with you anywhere, anytime: the office, the gym, the airport, or just your own kitchen. Wherever you are, a quick burst of nourishing hydration is waiting for you.
And even though we don't add sugars or fake ingredients, Hydrate sticks still provide a delicious pop of flavor that you can't get enough of. Now in lemon and mango pineapple, it's time to say hi to delicious hydration.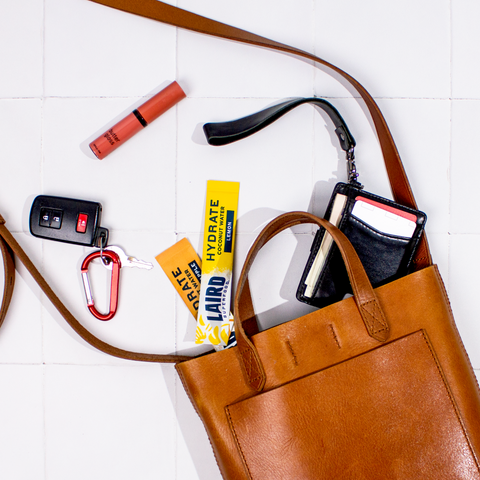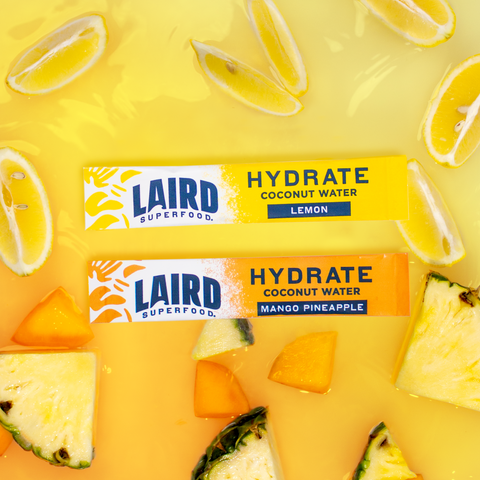 A Bright Pop of Fresh Hydration
A clean, fresh pop of citrus and coconut, with just a sprinkle of sweetness from monk fruit. And with just the right amount of sea salt, this is the balanced hydration you've been waiting for.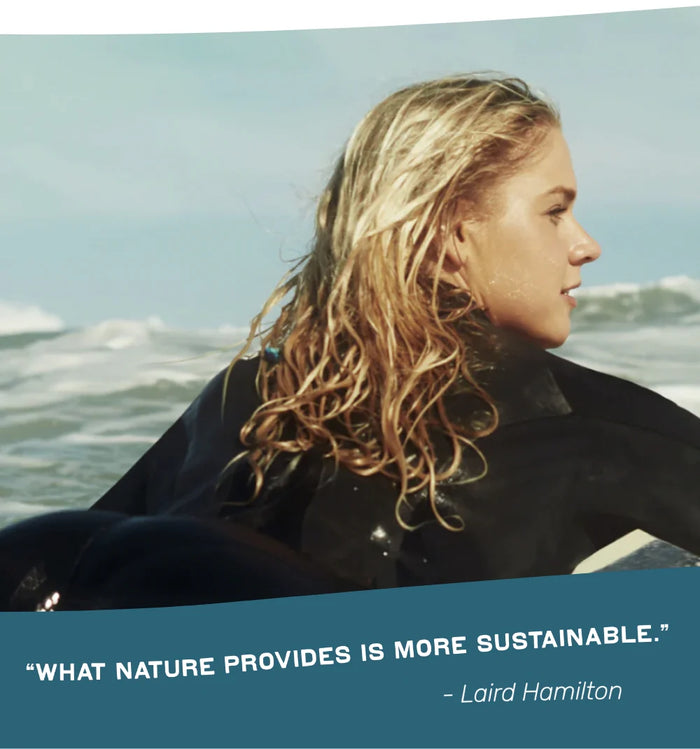 Ingredients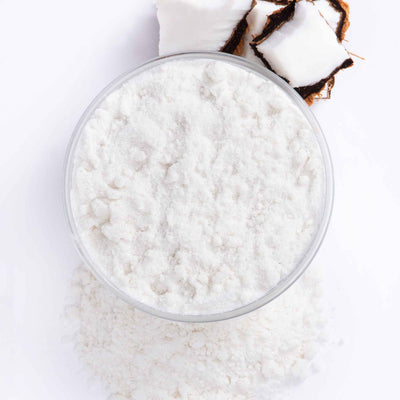 Freeze-dried coconut water is simply that, coconut water that has been freeze dried. Freeze drying coconut water preserves flavor and nutrients like potassium and other electrolytes.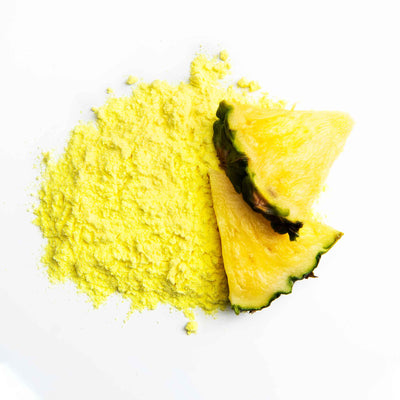 A good source of vitamin C and manganese, Pineapple may also aid in digestion and help reduce inflammation thanks to enzyme bromelain.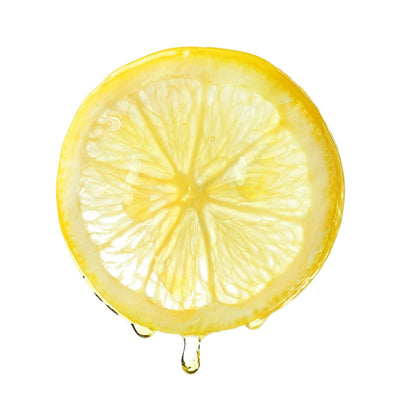 Extracted from fresh lemons, lemon oil add a delightfully refreshing taste and aroma to our protein bars.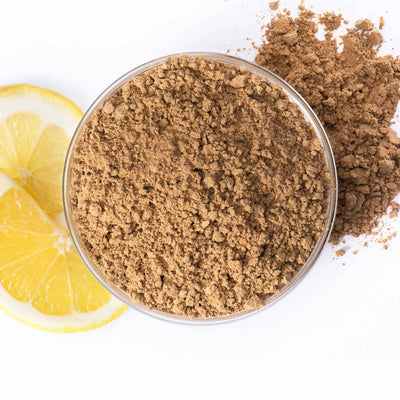 Lemon is zesty and bright in flavor. The lemon is now mostly grown in tropical and subtropical countries.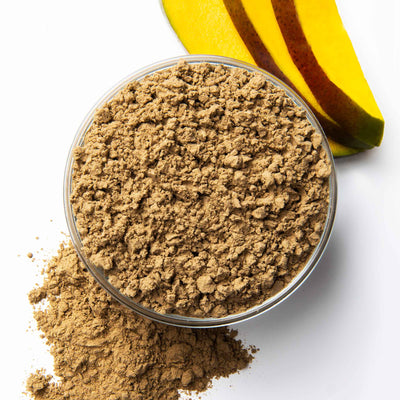 Mangos not only contain polyphenolic compounds with high antioxidative activity, they are also rich in minerals like potassium, magnesium, and copper. Thanks to their high fiber content, they may also aid in digestion.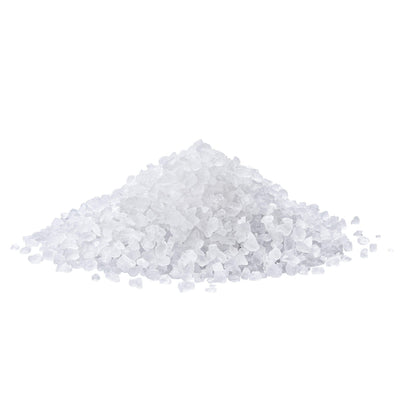 Sea salt comes from evaporated seawater and is less processed than table salt and may retain some of its trace minerals.
Others
Delicious, natural taste
We are proud to create products that are not only functional but taste great too.
No "Natural" Flavors
We do not use any artificial colors, flavors, or ingredients. All of our flavor is from real food like cinnamon, turmeric and cacao.
Real food ingredients
We use clean, high-quality ingredients in our products. We do not use seed oils.
Customer Reviews
for Hydrate + Electrolyte Singles