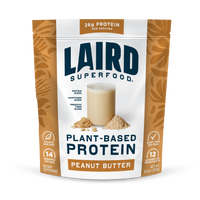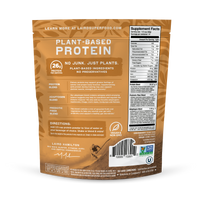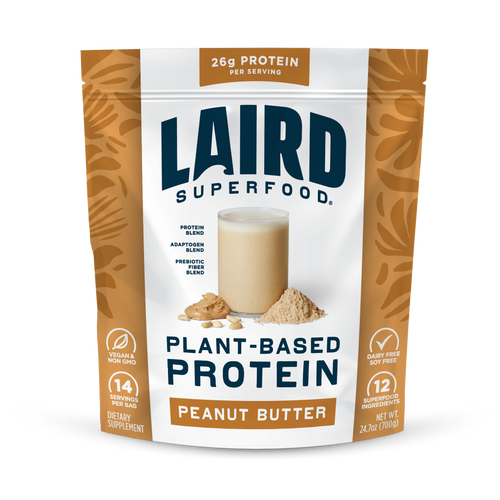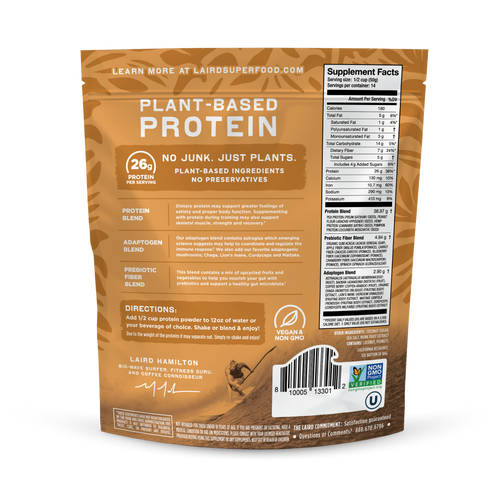 Plant-Based Protein
Peanut Butter Protein Powder
Filled with 26 grams of plant-based proteins per serving plus fiber and adaptogens, all boosted with the creamy taste of peanut butter, this vegan protein blend delivers everything you're looking for in a performance and recovery powder. Yes, it is loaded with all kinds of good stuff for your muscles and mind. But it also tastes amazing, transforming any ordinary beverage into a deliciously smooth peanut-butter flavored fuel. Momentum has never tasted so good.
26 grams of plant-based, vegan protein per serving
Supplemental protein may support skeletal muscle strength and recovery
The ingredient astragalus is known to activate immune cells
Prebiotic fiber helps nourish your gut
Excellent Source of Iron
Excellent Source of Protein
Add 1/2 cup of powder to your glass.
Fill with 12 ounces of water, milk, or drink of choice.
Shake or stir and enjoy.
Organic Pea Protein, Organic Hemp Seed Protein, Organic Pumpkin Seed Protein, Organic Peanut Flour, Organic Gum Acacia, Organic Apple Fiber Powder, Organic Carrot Fiber Powder, Organic Blueberry Fiber Powder, Organic Cranberry Fiber Powder, Organic Spinach, Astragalus, Baobab, Coffee Cherry Powder, Organic Chaga Mushroom Extract, Organic Lion's Mane Mushroom Extract, Organic Maitake Mushroom Extract, Organic Cordyceps Mushroom Extract, Sea Salt, Monk Fruit Extract, Organic Coconut Sugar
We expect to ship your purchase within 2-3 weeks.
You will receive an email when this item ships.
Peanut Butter With a Protein Boost
If you love the taste of peanut butter, you're going to love this protein powder even more.
It takes the peanut butter taste we crave and blends it with superfood ingredients that help our bodies and minds perform their best. Dietary fiber from fruits and vegetables for gut health. Astragalus to help support immunity. And of course, completely plant-based proteins that science suggests can aid in muscle strength and recovery.
With just a simple serving added to your favorite beverage, you'll instantly create a mouthwatering, nutritious drink that will help keep you fueled. Peanut butter has never been better.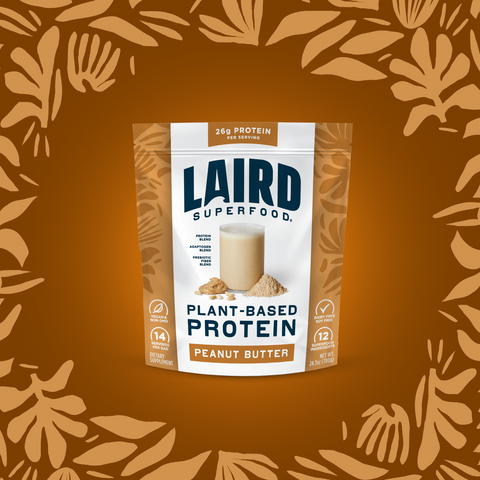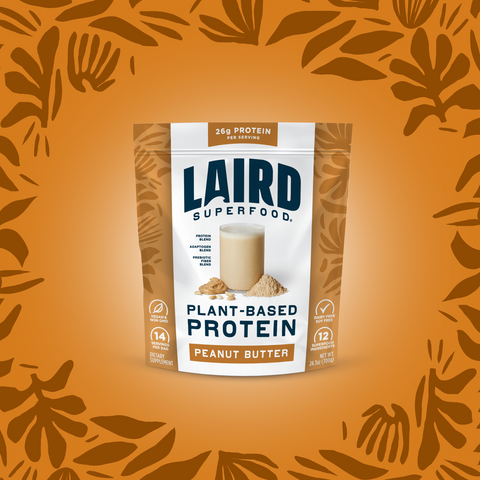 Smooth, Creamy Deliciousness
The smooth and creamy taste of peanut butter, without any of the chalky-texture of other protein powders, this original blend is endlessly satisfying and satiating.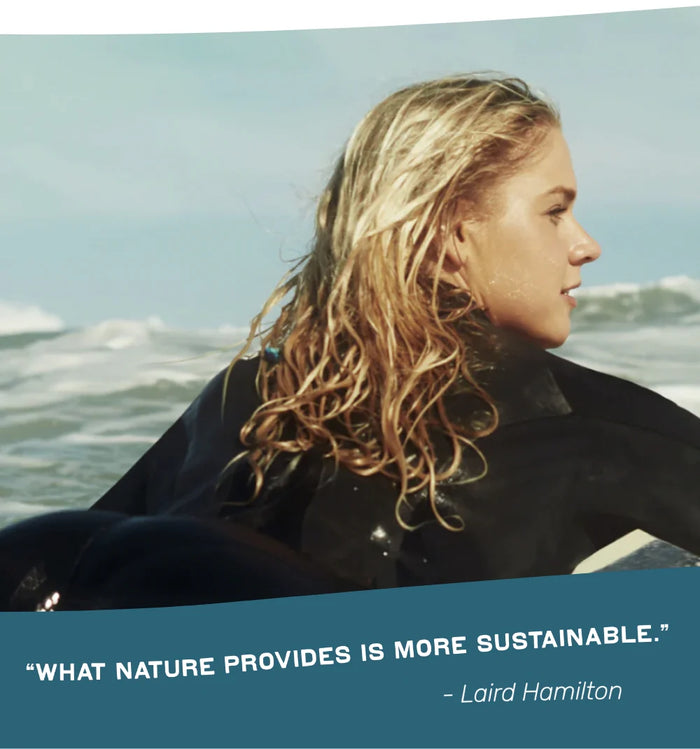 Ingredients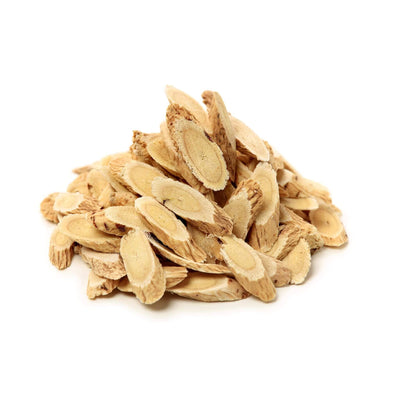 Astragalus is a species of plant used for thousands of years in eastern medicine for its supposed health benefits. The root is purported to support the immune system function.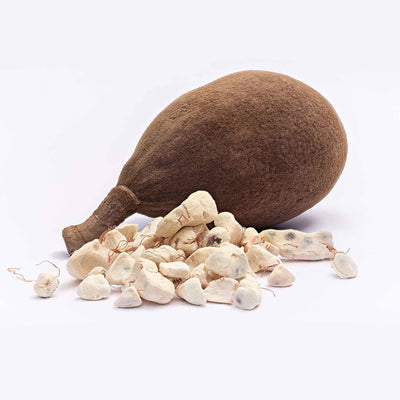 This is a centuries-old superfood, consumed historically in its native home of mainland Africa. The Baobab tree is also known as "the tree of life." Today the superfood is used globally. Baobab has a wheat-like or flour-like taste.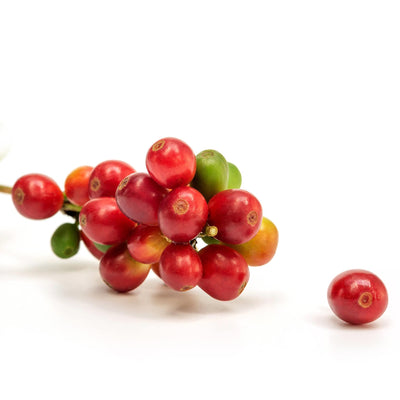 Coffee cherry is a small, reddish purple stone fruit produced by the coffee (Coffea) plant. Once the coffee beans are removed from the cherry, the cherry skin and pulp is dried and ground to make coffee cherry powder. Coffee cherry is sweet and tangy with notes of hibiscus, rose hips, and cherry.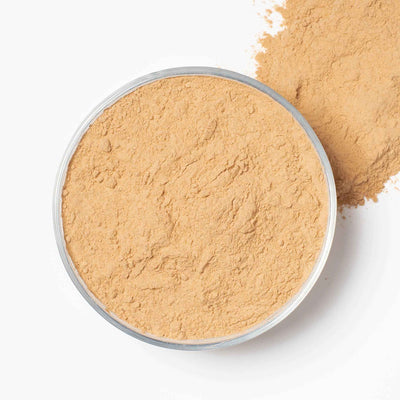 Apple fiber powder is the insoluble and soluble fiber naturally found in apples. It's often used as a natural binding agent.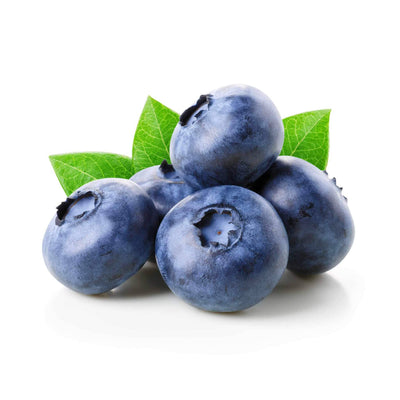 Our blueberry powder is made from whole blueberries, freeze-dried to preserve their integrity and flavor. Anthocyanins, a type of polyphenol, give blueberries their dark blue color.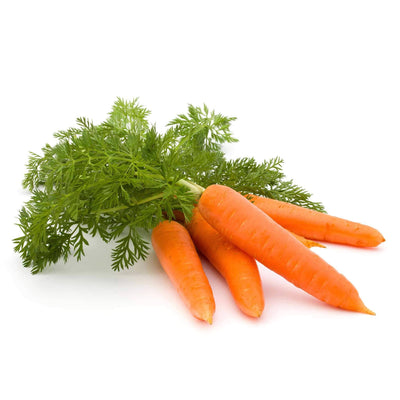 A nourishing and vibrant vegetable. Carrot powder mixes perfectly into baked goods, you won't even know it's there!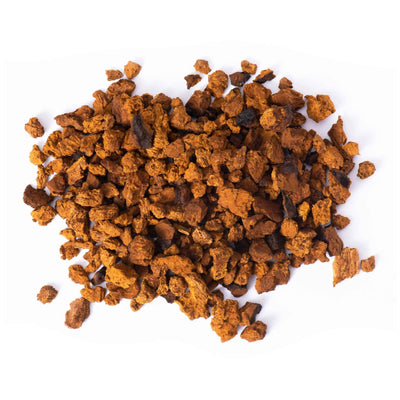 This highly desired mushroom, sometimes referred to as "Chaga Gold" and considered the "King of Mushrooms,'' grows on hardwood trees, primarily Birch trees, and is found in the colder, northern climates. Studied for its support of the immune system, Chaga is a "go-to" for overall well-being.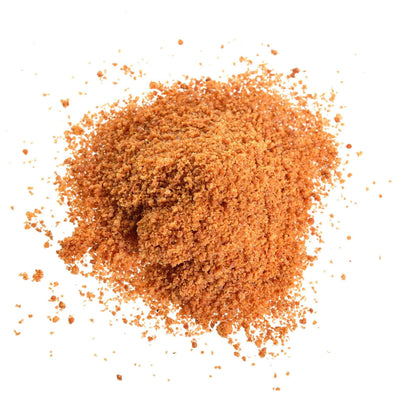 Coconut sugar is derived from the nectar of coconut tree blossoms. Our organic coconut sugar has absolutely no artificial ingredients or preservatives – just 100% pure organic coconut sugar.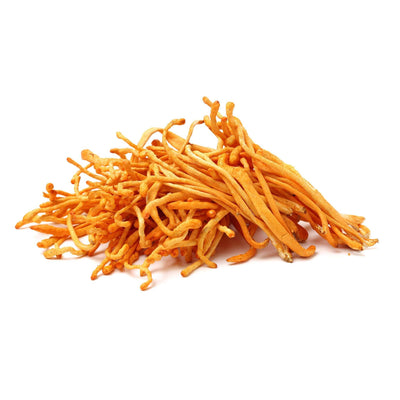 Cordyceps mushrooms were traditionally native high in the mountains of China, but are now found all over, most commonly in Asia. A definite in your daily ritual, this functional mushroom is loved by high endurance performers.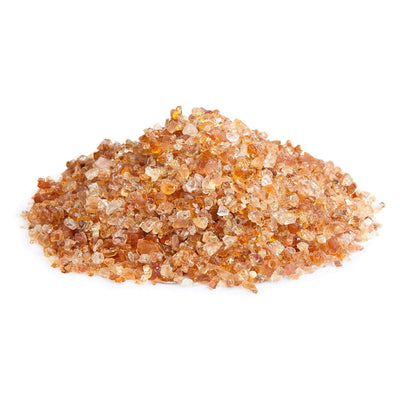 A natural gum sourced from the hardened sap of the Acacia Senegal tree, a thorny shrub-like tree native to regions Africa, India, and Pakistan.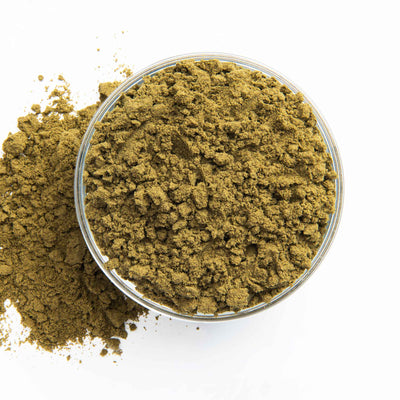 Hemp protein contains 20 amino acids, including the 9 essential amino acids -- the building blocks of protein, making it a MUST-have ingredient in any plant-based protein powder.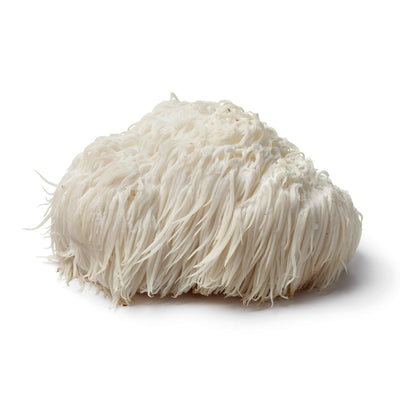 Lion's Mane is an edible mushroom native to North America, Europe, and Asia and is also known as the bearded tooth or pom pom mushroom. Lion's Mane is easily identified by its bearded look. Used for its properties, you won't taste the lion's mane flavor in any of our blends.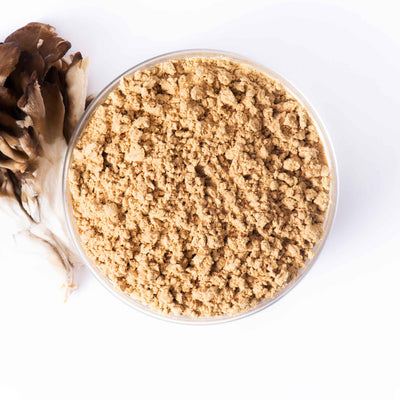 Maitake has been used for hundreds of years in traditional Eastern cuisine and medicine for its support of overall health and vitality. Maitake' means "Dancing Mushroom" in Japanese.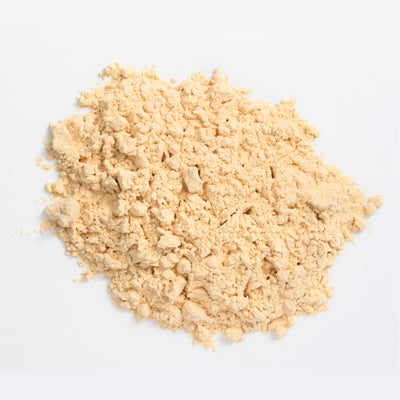 Pea protein powder is a high-quality, plant-based protein source made from yellow and or green peas. It contains branched-chain amino acids and is neutral in taste, making it a great vegan protein source.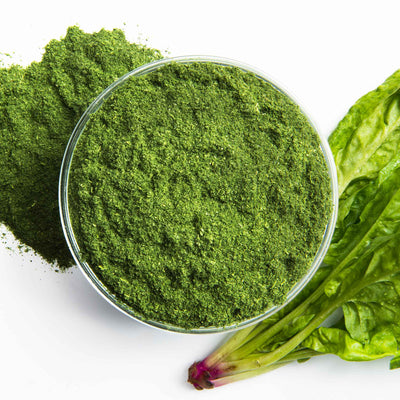 This leafy green vegetable is ideal in a prebiotic formula.* History indicates spinach was cultivated prior to the Middle Ages.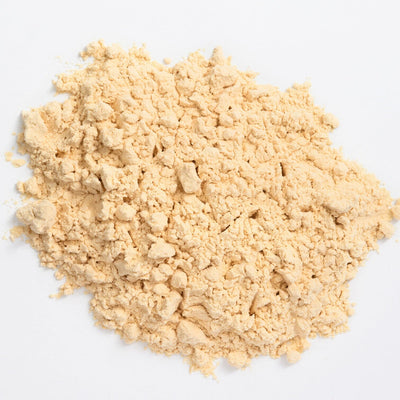 Crushed, fully or partly defatted peanuts.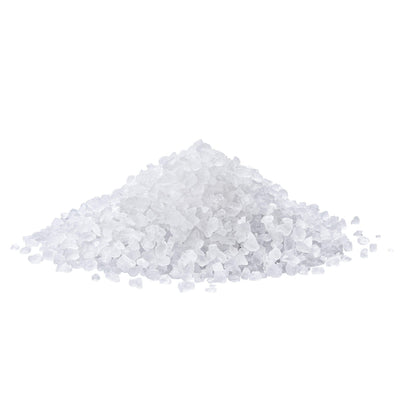 Sea salt comes from evaporated seawater and is less processed than table salt and may retain some of its trace minerals.
Others
Delicious, natural taste
We are proud to create products that are not only functional but taste great too.
No "Natural" Flavors
We do not use any artificial colors, flavors, or ingredients. All of our flavor is from real food like cinnamon, turmeric and cacao.
Real food ingredients
We use clean, high-quality ingredients in our products. We do not use seed oils.
Customer Reviews
for Peanut Butter Protein Powder