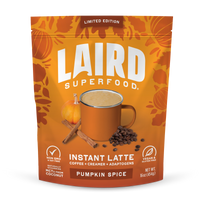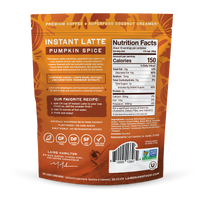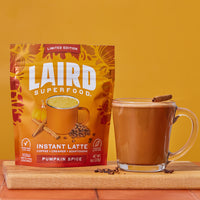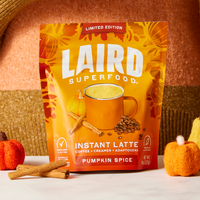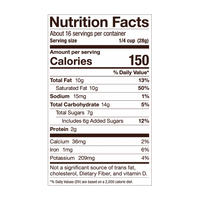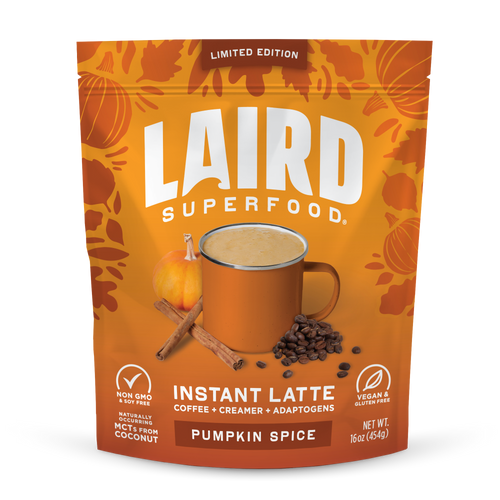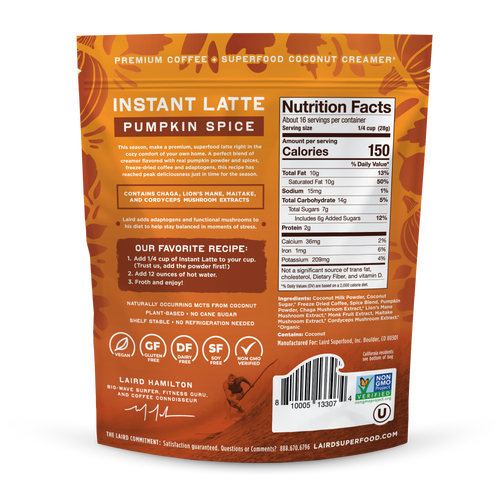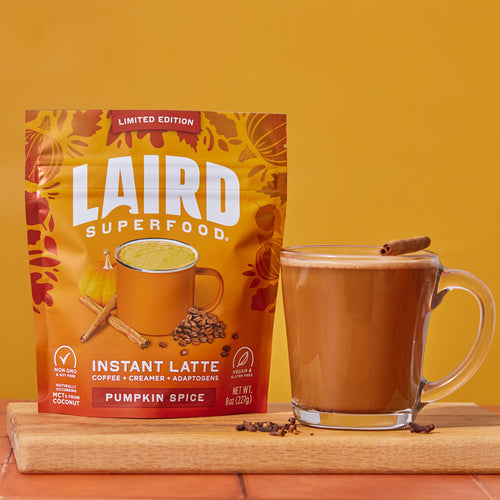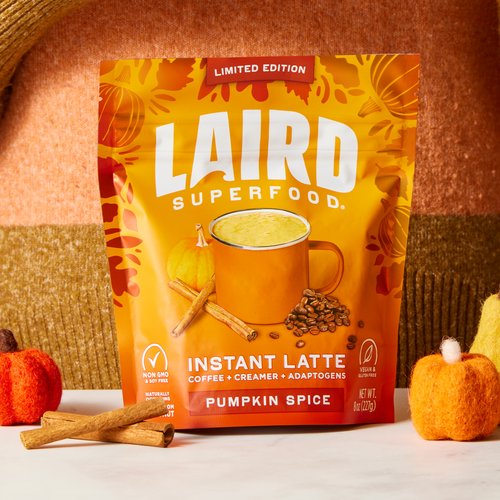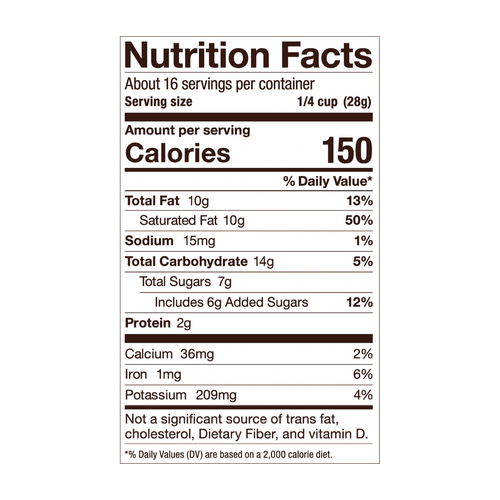 Instant Latte
Pumpkin Spice Instant Latte
We've pulled all the flavors of fall into this creamy, pumpkin-powered Instant Latte that will quickly warm up your spirits on even the moodiest of days. Our proprietary seasonal blend includes the rich tastes of cinnamon, ginger, nutmeg, and cloves with a healthy kick of real pumpkin spice. And we've added adaptogens to help support your immune system when you need it most. With freeze-dried premium coffee all you need is some hot water and you can finally say goodbye to long waits in drive-thru line.
Naturally occurring MCT (from coconut) + caffeine = lasting energy
Deliciously creamy, real pumpkin experience
Laird adds adaptogens and functional mushrooms to his diet to help stay balanced in moments of stress.
Pumpkin Spice Instant Latte delivers a creamy pumpkin coffee experience in moments.
Pour 1/4 cup of Instant Latte into your cup.
Add 12 ounces of hot water.
Stir or froth and enjoy!
Coconut Milk Powder, Organic Coconut Sugar, Freeze-Dried Premium Coffee, Spice Blend, Pumpkin Powder, Organic Chaga Mushroom Extract, Organic Lion's Mane Mushroom Extract, Monk Fruit Extract, Organic Maitake Mushroom Extract, Organic Cordyceps Mushroroom Extract
We expect to ship your purchase within 2-3 weeks.
You will receive an email when this item ships.
Fall In Love This Fall
Faster than the time it takes a falling leaf to reach the ground, you can brew a delicious taste of fall with our real-food Pumpkin Spice Instant Latte. Filled with our signature blend of cinnamon, ginger, nutmeg, and cloves, plus plenty of true pumpkin flavor, and, of course, our premium freeze-dried coffee, this blend delivers a creamy cup of seasonal flavors anytime, anywhere.
Even better, made only with real-food ingredients and our mushroom-powered adaptogen blend, this cup of deliciousness is free from the artifical-flavors and syrups that are found in most pumpkin-flavored drinks.
So zip up your coat and charge into fall, knowing the warm embrace of a pumpkin-fueled cup of Latte is there when you need it.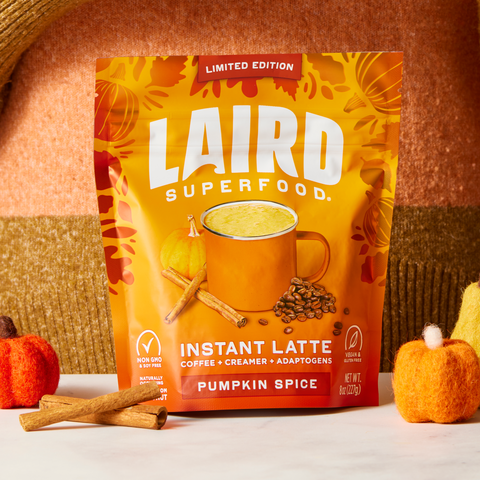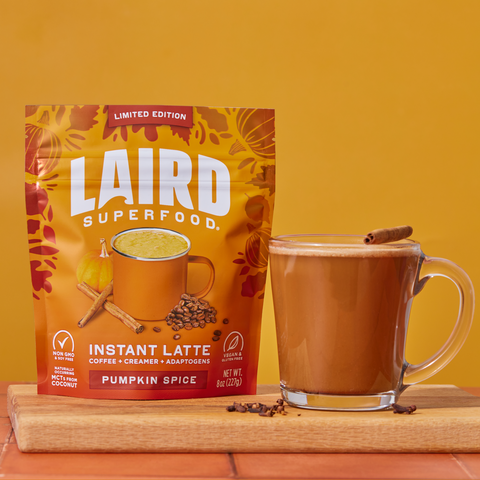 Pumpkin-Powered Protein
Our mix of pumpkin spice, cinnamon, ginger, nutmeg, and cloves delivers an instant taste of everything you love about fall. And our blend of plant proteins and fiber offers the perfect smooth texture. This is pumpkin spice you can feel good about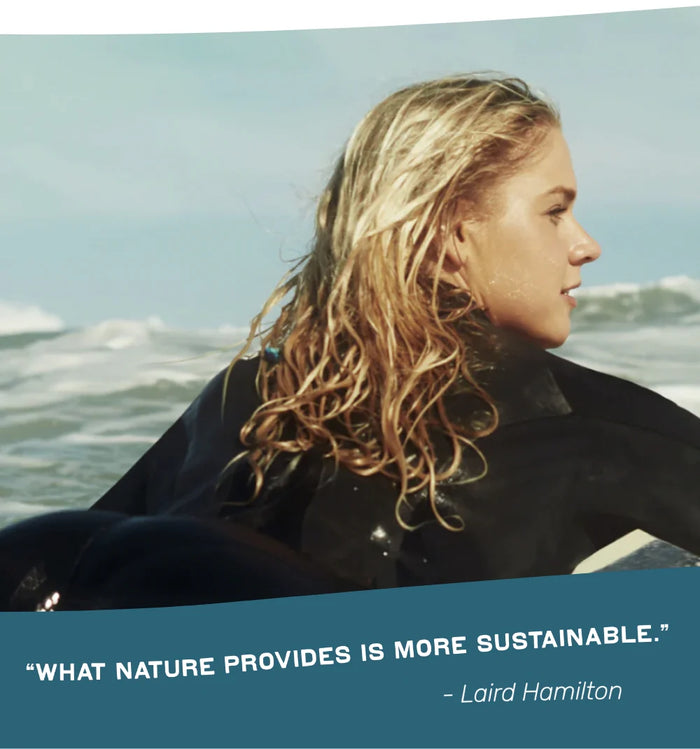 Ingredients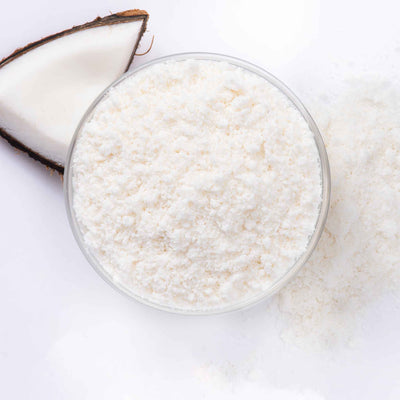 Coconut Milk, a blend of water and coconut cream, is an ideal substitute to traditional milk. Lactose-free and rich in antioxidants, we're only just beginning to understand all the nutritional benefits it offers.
Also known as the Luo Han Guo, is a plant native to China and northern Thailand cultivated for its sweet tasting fruit.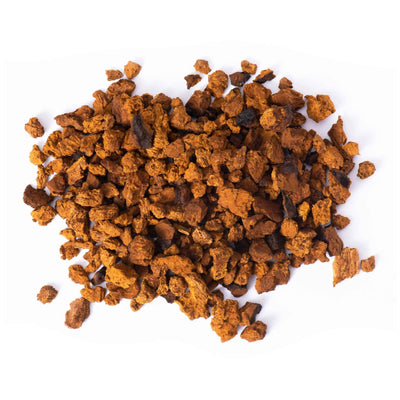 This highly desired mushroom, sometimes referred to as "Chaga Gold" and considered the "King of Mushrooms,'' grows on hardwood trees, primarily Birch trees, and is found in the colder, northern climates. Studied for its support of the immune system, Chaga is a "go-to" for overall well-being.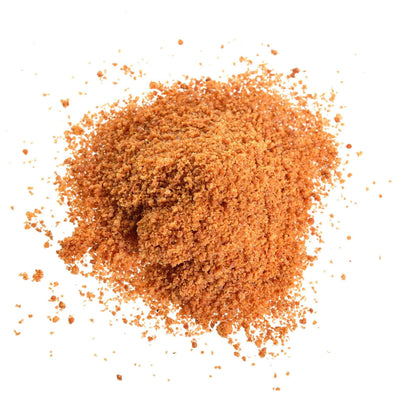 Coconut sugar is derived from the nectar of coconut tree blossoms. Our organic coconut sugar has absolutely no artificial ingredients or preservatives – just 100% pure organic coconut sugar.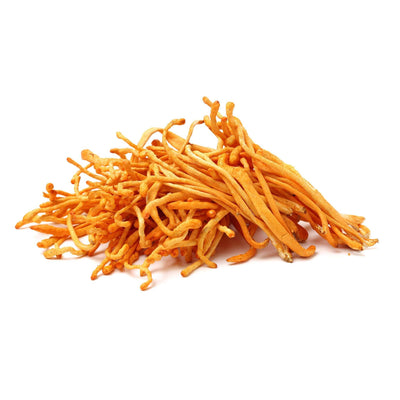 Cordyceps mushrooms were traditionally native high in the mountains of China, but are now found all over, most commonly in Asia. A definite in your daily ritual, this functional mushroom is loved by high endurance performers.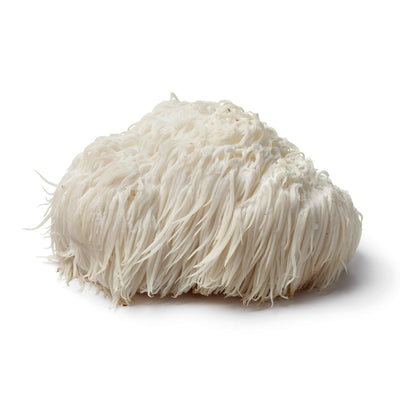 Lion's Mane is an edible mushroom native to North America, Europe, and Asia and is also known as the bearded tooth or pom pom mushroom. Lion's Mane is easily identified by its bearded look. Used for its properties, you won't taste the lion's mane flavor in any of our blends.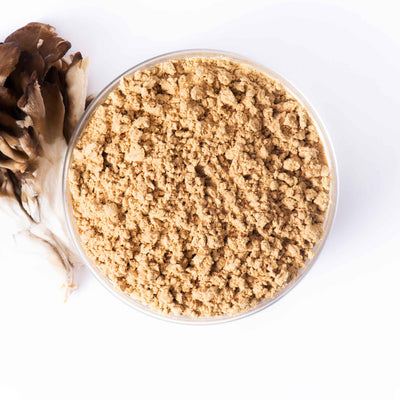 Maitake has been used for hundreds of years in traditional Eastern cuisine and medicine for its support of overall health and vitality. Maitake' means "Dancing Mushroom" in Japanese.
An all-natural, delicious base for select seasonal products. Good source of fiber and potassium.
Others
Delicious, natural taste
We are proud to create products that are not only functional but taste great too.
No "Natural" Flavors
We do not use any artificial colors, flavors, or ingredients. All of our flavor is from real food like cinnamon, turmeric and cacao.
Real food ingredients
We use clean, high-quality ingredients in our products. We do not use seed oils.
Customer Reviews
for Pumpkin Spice Instant Latte