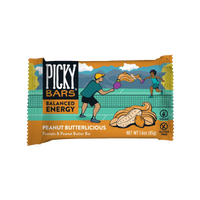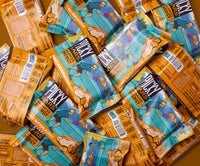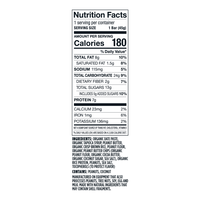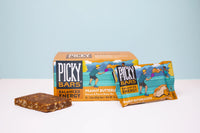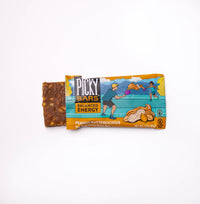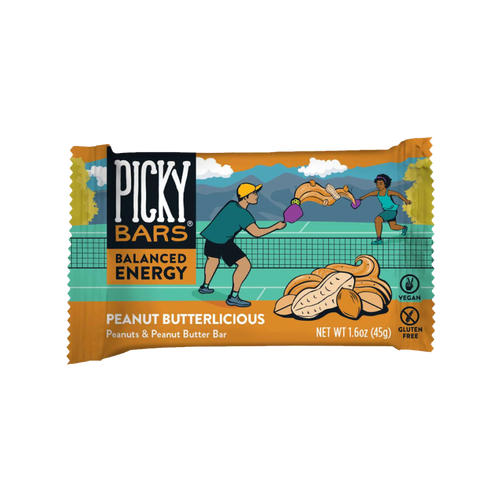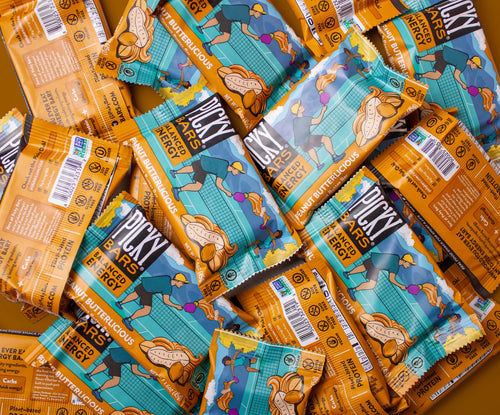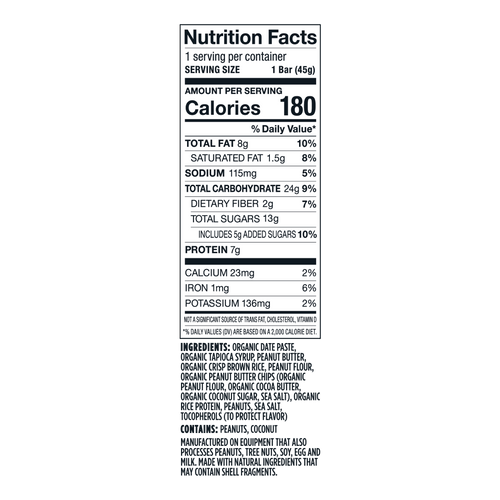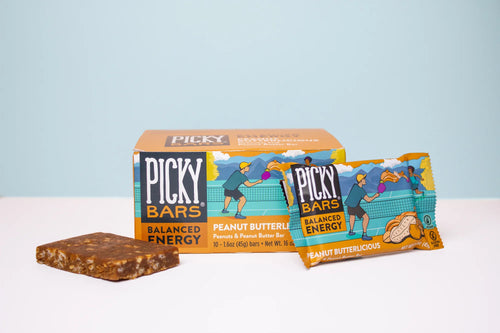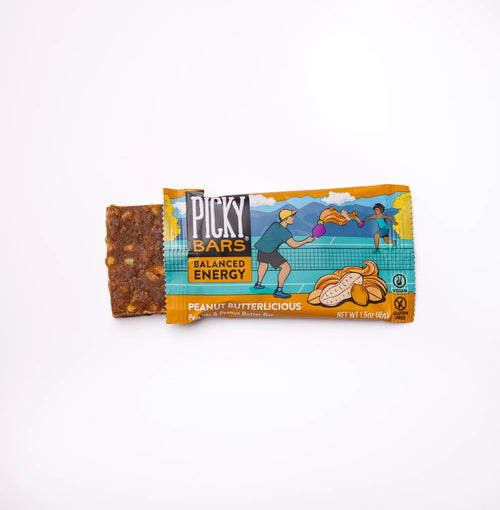 Picky Bars
Peanut Butterlicious Bar
Step into the world of peanutty nirvana with Peanut Butterlicious - this bar is a peanut-packed adventure for your tastebuds. Crafted for maximum munchability and nutastic deliciousness with dates, peanut butter, and crunchy peanuts, it will be your new go-to for a boost of energy.
180 calories
7g plant-based protein
Gluten, dairy, soy, and GMO free
Vegan!
organic date paste, organic tapioca syrup, peanut butter, organic crisp brown rice, peanut flour, organic peanut butter chips (organic peanut flour, organic cocoa butter, organic coconut sugar, sea salt) organic rice protein, peanuts, sea sale, tocopherols (to protect flavor)
Contains: Peanuts, Coconut. Manufactured on equipment that also processes peanuts, tree nuts, soy, egg and milk. Made with natural ingredients that may contain shell fragments.
Serving size: 1 bar (45g) amount per serving: calories 180, total fat 8g (10% dv), sat. fat 1.5g (8% dv), trans fat 0g, cholesterol 0mg (0% dv), sodium 115mg (5% dv), total carb. 24g (9% dv), fiber 2g (7% dv), total sugars 13g (inc. 5g added sugars) (10% dv), protein 7g, vit. D 0mg (0% dv), calcium 23mg (2% dv), iron 1mg (6% dv), potassium 136mg (2% dv)
We expect to ship your purchase within 2-3 weeks.
You will receive an email when this item ships.
Ingredients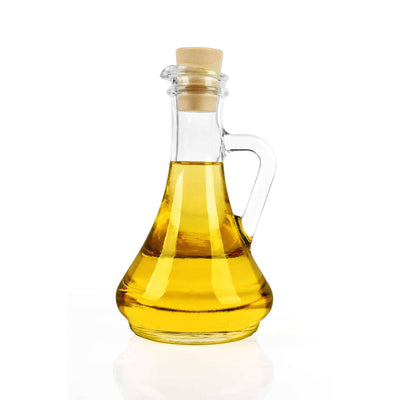 Mixed tocopherols are a combination of tocopherols that are known as vitamin E. Vitamin E is a fat-soluble vitamin that acts as an antioxidant to help protect the freshness of the bars.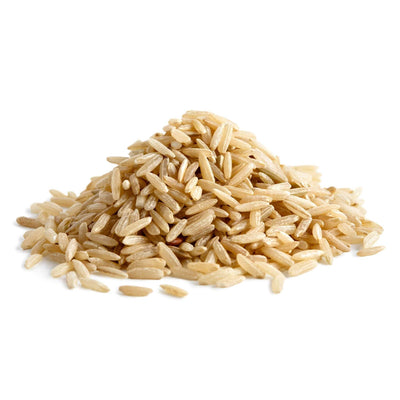 A natural sweetener derived from brown rice with naturally occurring fiber and minerals. Also used to support the integrity of the bar, helping to hold ingredients together while maintaining moisture and supplying a slight sweet effect.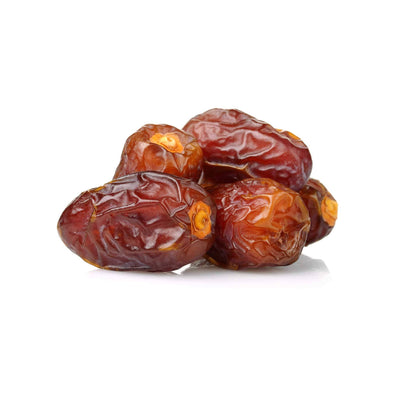 The fruit of the date palm plant that contains natural sugars and minerals. Dates are low on the Glycemic Index (GI) thanks to natural plant fiber, which helps slow down sugar absorption into the body. This results in a steady source of energy.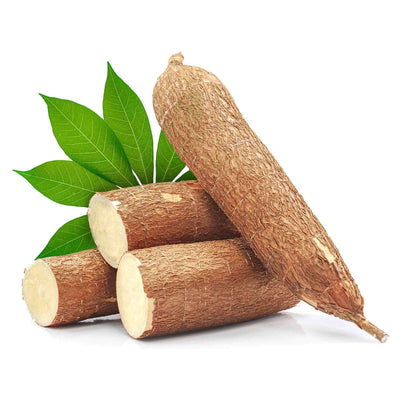 Slightly sweet, tapioca syrup is an ingredient with a consistency similar to honey. Tapioca syrup is made from cassava root, also known as the yucca root, and is a structural component of the bars helping to keep their shape.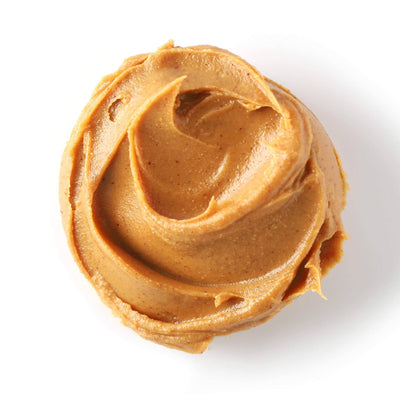 Made from crushed peanuts, nutritious peanut butter is slightly salty and sweet, yet nutty in flavor with a creamy texture. Botanically, peanuts are classified as legumes. However, for culinary, research and nutritional purposes, peanuts are considered a nut.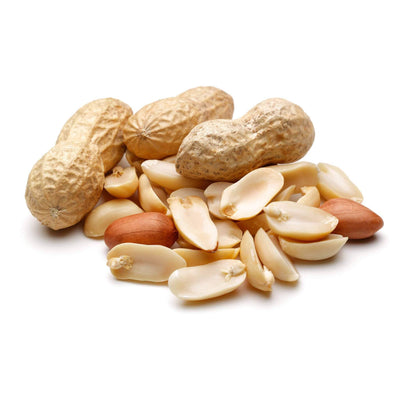 Botanically, peanuts are classified as legumes. However, for culinary, research, and nutritional purposes, peanuts are considered a nut. Peanuts are nutritious and can be consumed raw, roasted, or ground as nut butter.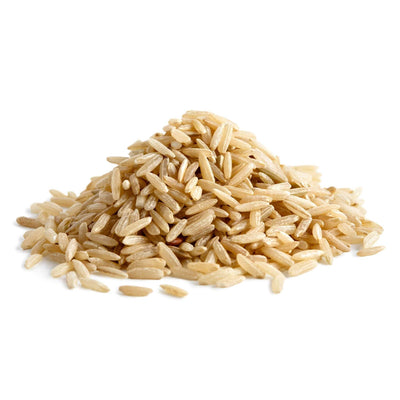 A plant-based protein source without allergens or gluten which is extracted from rice.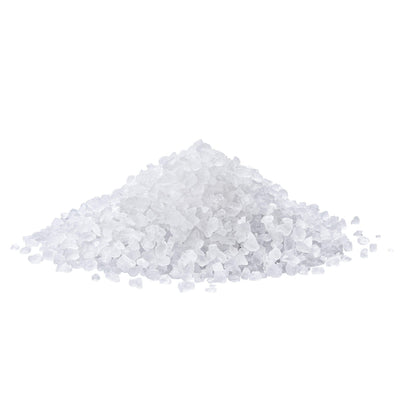 Sea salt comes from evaporated seawater and is less processed than table salt and may retain some of its trace minerals.
Others
Delicious, natural taste
We are proud to create products that are not only functional but taste great too.
No "Natural" Flavors
We do not use any artificial colors, flavors, or ingredients. All of our flavor is from real food like cinnamon, turmeric and cacao.
Real food ingredients
We use clean, high-quality ingredients in our products. We do not use seed oils.
Customer Reviews
for Peanut Butterlicious Bar