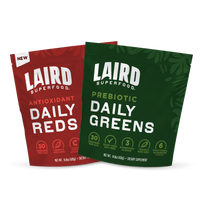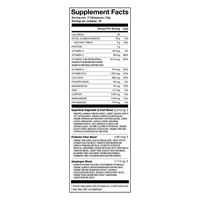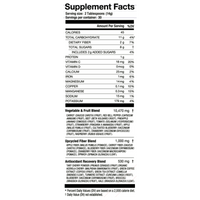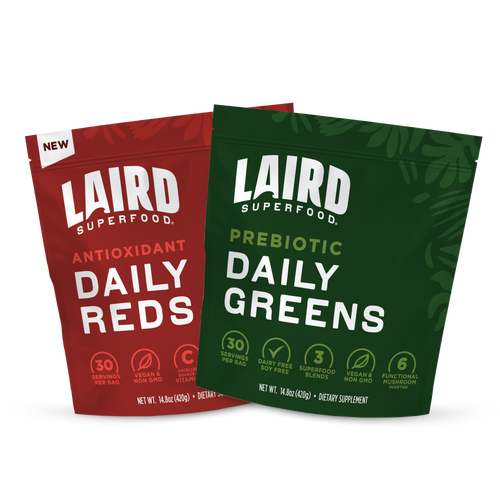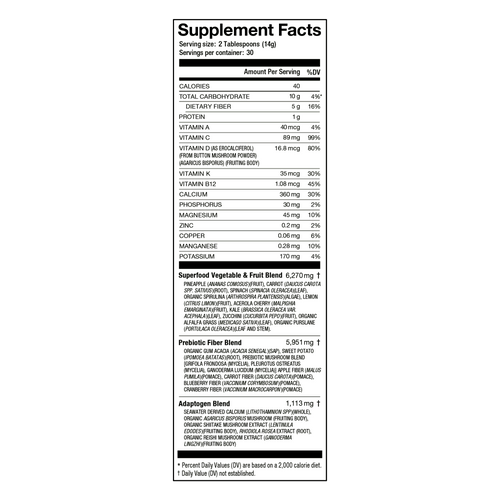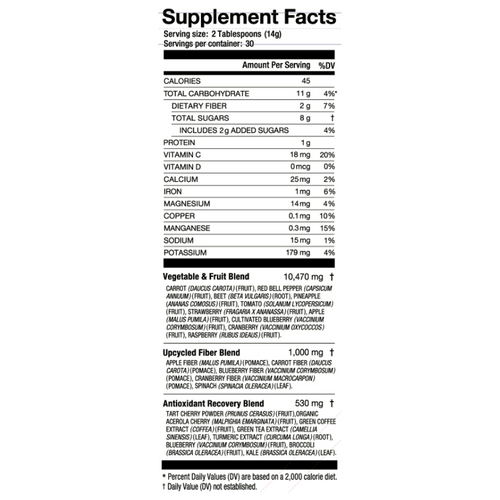 Holiday Bundle
Thrive this Holiday season with a powerful combination that helps restore vital balance to your antioxidant system and gut health at a time when you need it most. This dynamic duo supports your cardiovascular system, provides you with essential vitamins and fiber, and promotes muscle recovery from exercise.
Prebiotic Daily Greens
Excellent source of calcium and vitamins C, D, K and B12
Good source of Fiber, Manganese and Magnesium
8 leaves of spinach, 5 leaves of kale and 2 baby carrots in every serving
Antioxidant Daily Reds
Supports muscle health recovery and exercise recovery
Supports cardiovascular system by helping maintain REDOX balance
Includes 2 servings of fruits and vegetables with 2 strawberries, 2.5 blueberries, 1.5 cranberries and 1 carrot
Excellent source of vitamin C
Good source of Manganese and Copper
Prebiotic Daily Greens
Add 2 Tablespoons to your glass or cup
Add 8-12 oz of water and mix
Antioxidant Daily Reds
Add 2 Tablespoons of Antioxidant Daily Reds to your glass or cup
Add 8-12 oz of water and mix
Prebiotic Daily Greens
Pineapple, Carrot, Spinach, Organic Spirulina, Lemon, Acerola Cherry, Kale, Zucchini, Organic Alfalfa Grass, Organic Purslane, Organic Gum Acacia, Sweet Potato, Prebiotic Mushroom Blend, Pleurotus Ostreatus, Ganoderma Lucidum, Apple Fiber, Carrot Fiber, Blueberry Fiber, Cranberry Fiber, Seawater Derived Calcium, Organic Agaricus Bisporus Mushroom, Organic, Shiitake Mushroom Extract, Rhodiola Rosea Extract, Organic Reishi Mushroom Extract
Antioxidant Daily Reds
Carrot, Red Bell Pepper, Beet, Pineapple, Tomato, Strawberry, Apple, Cranberry, Raspberry, Apple Fiber, Blueberry Fiber, Spinach, Tart Cherry Powder, Organic Acerola Cherry, Green Coffee Extract, Green Tea Extract, Turmeric, Broccoli, Kale Product contains real fruit like strawberries, raspberries and blueberries that contain seeds.
We expect to ship your purchase within 2-3 weeks.
You will receive an email when this item ships.
Others
Delicious, natural taste
We are proud to create products that are not only functional but taste great too.
No "Natural" Flavors
We do not use any artificial colors, flavors, or ingredients. All of our flavor is from real food like cinnamon, turmeric and cacao.
Real food ingredients
We use clean, high-quality ingredients in our products. We do not use seed oils.
Customer Reviews
for Holiday Bundle