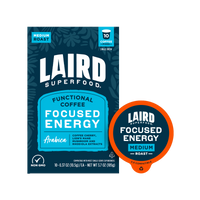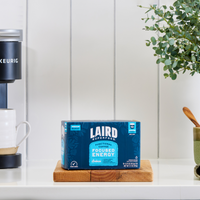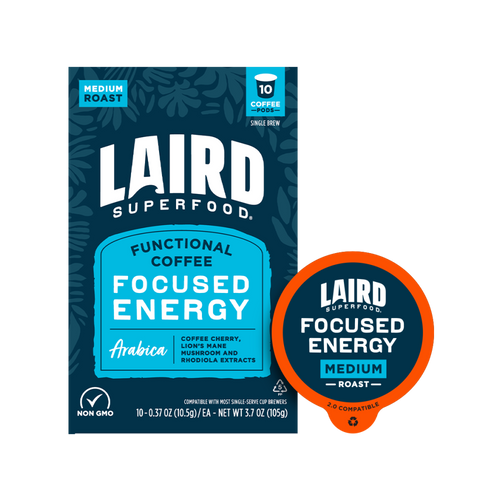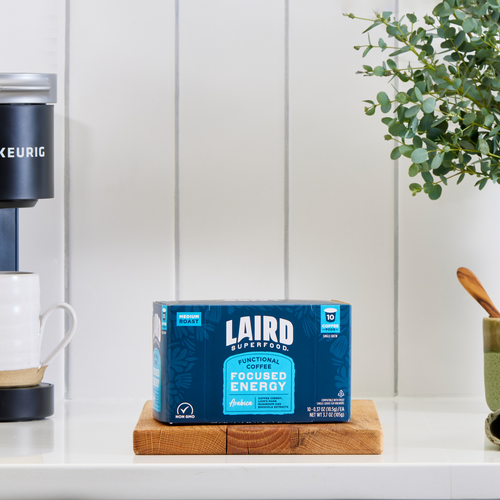 K-Cups
Focused Energy Coffee K-Cups
New Focused Energy K-Cups! This coffee recipe was curated to provide focused energy and give you that boost you need in your day. We start this blend with our Peruvian beans and add functional Lion's Mane mushroom, with Rhodiola extract and coffee cherry to invigorate you the plant-powered way.
Laird adds adaptogens and functional mushrooms to his diet to help stay balanced in moments of stress.

Convenient K-Cup format for a delicious experience with every cup.
Use pod with your favorite single K-Cup compatible brewer.

Mix with your favorite Laird Superfood Creamer.
We expect to ship your purchase within 2-3 weeks.
You will receive an email when this item ships.
Boost Your Focus
Start your day with Focused Energy, a premium blend of Peruvian beans expertly formulated with mushrooms and botanicals to naturally fuel your focus.
Grown in Peru, our coffee is farmed at an altitude of 4,000+ feet (for the ultimate flavor profile) and hand-picked to ensure the perfect ripeness of every single coffee cherry. Then we add Rhodiola rosea, a highly respected adaptogenic botanical, and Lion's Mane mushroom to turn it into functional fuel.
We take freshness seriously. That's why we chose to expand our portfolio to the popular pod format which helps to preserve our rich aroma and roast profile so every brew you make is just as delicious as the last.
The secret weapon? Pair it with your favorite Laird Superfood Creamer for the most delicious coffee combo designed to give you lasting energy to fuel your day!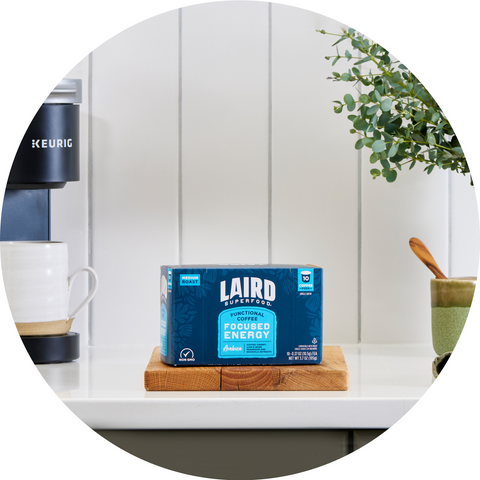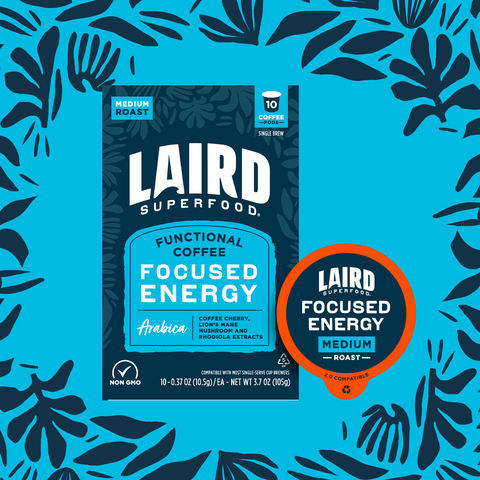 Smooth and Rich
The rich and full taste of Peruvian coffee meets tasty notes of Rhodiola and coffee cherry. You'll love the delicious, full-bodied flavors of this blend. You won't taste the functional mushroom extracts but will reap all of their benefits. This blend is as delicious as it is functional.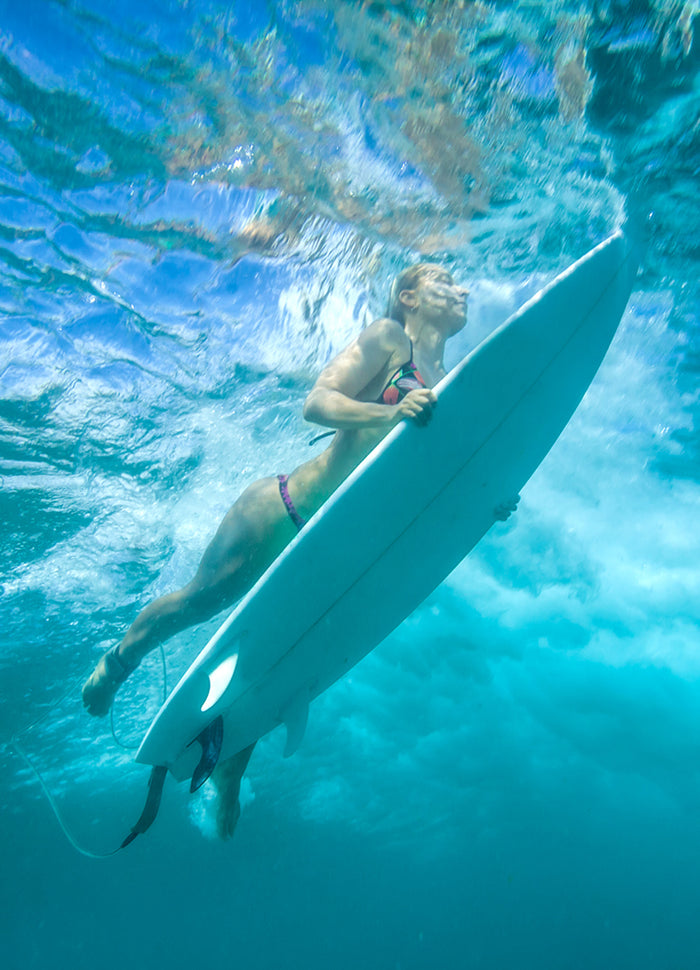 Ingredients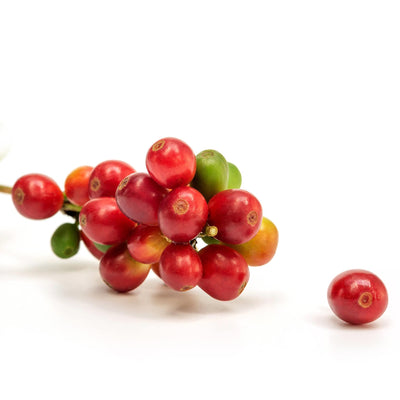 Coffee cherry is a small, reddish purple stone fruit produced by the coffee (Coffea) plant. Once the coffee beans are removed from the cherry, the cherry skin and pulp is dried and ground to make coffee cherry powder. Coffee cherry is sweet and tangy with notes of hibiscus, rose hips, and cherry.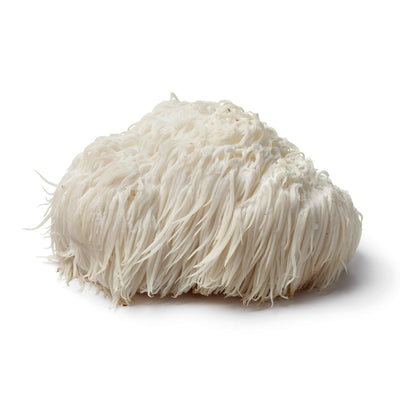 Lion's Mane is an edible mushroom native to North America, Europe, and Asia and is also known as the bearded tooth or pom pom mushroom. Lion's Mane is easily identified by its bearded look. Used for its properties, you won't taste the lion's mane flavor in any of our blends.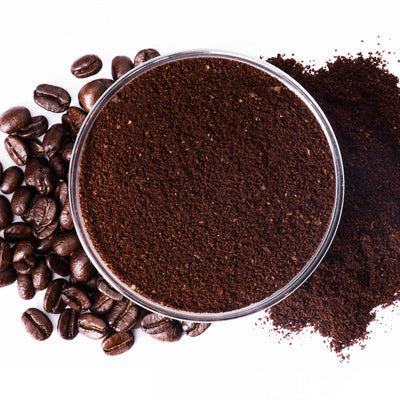 One of the top-rated premium coffee beans in the world. Well balanced in flavor and low in acidity, our beans are a delicious source of caffeine.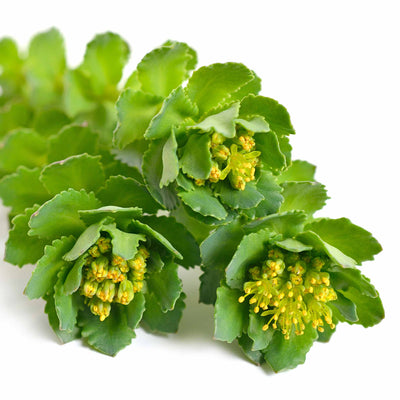 A powerful and highly respected adaptogenic botanical. This adaptogen has been used throughout history for a plethora of benefits. This plant is native to high altitudes, and was originally found in Asia, Europe, and the Northern Hemisphere.
Others
Delicious, natural taste
We are proud to create products that are not only functional but taste great too.
No "Natural" Flavors
We do not use any artificial colors, flavors, or ingredients. All of our flavor is from real food like cinnamon, turmeric and cacao.
Real food ingredients
We use clean, high-quality ingredients in our products. We do not use seed oils.
Customer Reviews
for Focused Energy Coffee K-Cups