Introducing: Bright Cups, Single Use Coffee Pods
Posted on April 26, 2022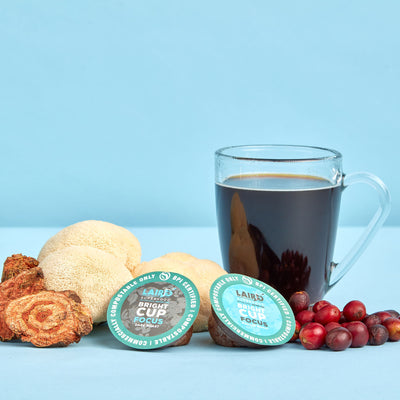 The invention of the single-serve coffee machine might just be one of the most convenient and helpful inventions in the modern person's life. Gone are the days of wasting tons of coffee for just one cup, or worse, reaching for the coffee pot only to have it be ice cold (we're cringing over here just thinking about it).
According to the data, nearly 40% of people in the US today own a single-serve brewing machine (that's more than four times as many as in 2010) and about 25% of people reported using single-use "coffee capsules" for their brew sometime during the day.
Knowing this, and being a company whose flagship products are coffee and creamer, you might be wondering why we are just now coming out with coffee pods. And you know what?

We're actually pretty proud of the answer.
WHAT'S THE DEAL WITH TRADITIONAL PLASTIC PODS?
As you know, traditional single-use coffee pods (also known as "coffee capsules") are made mostly of plastic (like polypropylene), and cannot be recycled as is. To recycle these pods, you actually need to:
Remove the lid
Remove all the grounds and thoroughly clean and rinse the pod
Recycle just the cup
(The rest of it goes into a landfill. Such a bummer.)
No commercial recycling facility has the resources to dismantle and clean the over 12 billion used pods that come through each year and thus, their fate ends in a landfill. According to the US Environmental Protection Agency, plastics like polypropylene take about 20-30 years to break down once they hit landfills, and a staggering 27 million tons (or about 20% of all solid waste) is caused back to some type of plastics.

At Laird Superfood, we believe in creating products that are good for you, and the planet. We work hard to source our ingredients sustainably, focus on our carbon footprint, and do things in a way that aligns with our values.
To be frank, throwing our hat into the ring of single-serve coffee just wasn't something that felt right to us. Until now.
WHAT ARE BRIGHT CUPS?
Say "hello" to our favorite new innovation! Bright Cups Coffee Pods are the eco-friendlier way to enjoy your favorite functional coffee with your single-serve brewing machines*, made in pods with plant-based materials!

Bright Cups are BPI-Certified compostable** and specially formulated with renewable resources. In short, our best-selling Focus Functional Coffee Blend can now be brewed in your single-serve machine. Same great taste, just less waste!

Available in 12, 24, and 72 packs, a perfectly convenient cup of functional coffee has never been easier!
WHAT ARE BRIGHT CUPS MADE OF?
Great question. This is the really exciting part.

The pods are specially designed with bio-based substances and plant-based materials including coffee chaff. Coffee chaff is the natural skin of the coffee bean that comes off during the roasting process and is usually considered a waste by-product. This is similar to the skin of a peanut.

Utilizing the coffee chaff instead of wasting it makes a friendlier eco-impact in both the production and the composting of our pods! Essentially, WE create less waste making them, and YOU create less waste drinking them. Pretty epic, right?
WHAT'S THE SKINNY ON THE COFFEE?
Right now, Bright Cups are offered containing our best-selling Focus blend in both medium and dark roasts. It's our delicious high-altitude grown Peruvian beans expertly formulated with Coffee Cherry, Rhodiola (an adaptogen botanical) and Lion's Mane functional mushroom.

This blend is made to fuel your Focus, and elevate your morning cup (or afternoon cup, we don't judge.)
PRO TIP!
Once you try Bright Cups and love them, you can save 15% on every bag by joining our Daily Ritual Club! In just a few seconds, you can build a subscription box to include your Bright Cups and your favorite Superfood Creamer, then set it on a delivery schedule so you never run out. (Plus, Daily Ritual Club members get tons of extra perks like $10 coupons every quarter and exclusive early access to new products and sales. And you can cancel literally anytime so it's zero risk!)
All in all, we know how convenient coffee pods are, and we're so proud to offer you a way to enjoy them that helps us work towards a Brighter future… together.
*Fits machines that work with single-serve plastic cups. Not compatible with Nespresso machines. Nespresso is a registered trademark of Nestlé Nespresso S.A. Laird Superfood has no affiliation with Nestlé Nespresso S.A.

**​​Boasting BPI certification, our Bright Cup coffee pods are designed for typical industrial or commercial composting facilities. Check with your local municipality or waste service providers to find out what your choices are.