A Letter from Our CEO
Posted on March 20, 2020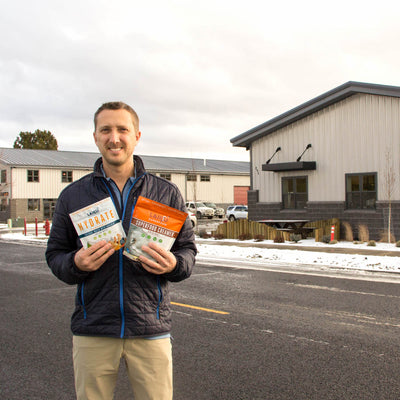 Aloha from Laird Superfood!
Our hearts and thoughts go out across the globe to those affected by the Covid-19 virus. I'm writing to update you on what Laird Superfood is doing to address the challenges of this situation.
Bottom line, we are looking out for our team around-the-clock, our food-safety plans are top-notch, we are taking additional protective measures due to the pandemic, and we are stepping up as a team to keep orders flowing during this time of significantly increased demand.
High-quality, shelf-stable, natural products have never been more important. We acted quickly to develop a pandemic safety plan, and secure additional raw materials as Covid-19 spread in Asia. Our pandemic plan is in place, and we expect to be able to continue to deliver product as long as we feel it's safe to keep our production facilities in Sisters, Oregon open. Our staff is taking great care in keeping themselves and the rest of the team healthy, and working hard to keep orders filled and shelves stocked.   
Laird Superfood took the initiatives years ago to build our own manufacturing facilities from the ground up. In doing so, we were able to build our factories with state-of-the-art cleanroom and production environments, with high-tech, positive-pressure ventilation, and filtration systems. While the safety of our food and staff are always top priorities, these systems, and isolated cleanroom environments are especially appreciated in situations like these.
We're grateful for the many messages we've received from friends and customers asking questions and offering advice. We have taken many measures for the safety of our employees and products for our customers. We are closely monitoring the advice of the CDC, and local and national health authorities. A few examples of what we are doing:
+ We are continually reminding our staff of our policy that, if anyone feels any symptoms of illness, or if anyone in their household is sick, that they not come to work. We have a policy enabling people to anonymously report other workers that may appear to have symptoms of illness.
+ Our business travel has been suspended, and we are encouraging self-quarantine of employees returning from any travel or exposed to those who have traveled to higher-risk areas.
+ Our non-production employees are encouraged to work from home to limit the number of people in our facilities.
+ We already have protective food safety policies, and full protective garb within our enclosed, positive-pressure clean production rooms where the product is produced, packaged and sealed.  We have taken additional measures to further protect these production areas and raw material staging areas with additional cleaning procedures on frequently touched surfaces.
+ We are increasing our production staff to deal with the additional workloads.
+ We have set up our workspaces within the warehouse to provide additional spacing between workstations where able, and are taking extra steps where teamwork requires working in close proximity. 
To our Ohana, we'd encourage you to follow the advice of your local authorities, practice social distancing and self-quarantine where appropriate, and most importantly keep up your practice of healthy living! Quality sleep, good nutrition, and maintaining healthy stress levels are always great goals, and especially relevant now.
We believe our products to be as safe as they've always been, and we are in close contact with our ingredient suppliers to keep production running. We are delivering orders as expected, and will be in touch if our employees' wellbeing necessitates reducing operations.
Mahalo for your support.
Paul Hodge
CEO, Laird Superfood.