Frank Zummo | The World-Touring Drummer's Daily Ritual
Posted on November 20, 2019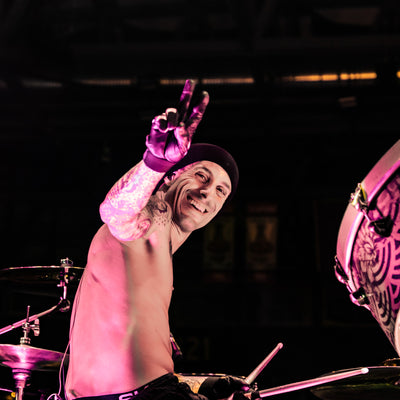 Read on to learn how Frank Zummo, a world-touring musician, stays charged with Laird Superfood.
It's our pleasure to introduce you (if you haven't already heard of him) to Frank Zummo. He's a world-touring drummer in the band Sum 41, he's filled in for 

Mötley Crüe, founded Street Drum Corps, and works with Vans to inspire young drummers around the globe. In addition to this, he's a father, a husband, and is dedicated to maintaining his health and wellness.

Within just the past year, he has been on an international tour, working on his own solo music (which will be released in 2020), and working to maintain peak wellness. To many, this would be an extremely busy life, but to Zummo, it's just what he does and he loves it. 

Although being a world-touring musician comes with many perks, the truth is that it's hard work. The realities of constant travel, changing climates, and high-energy shows can take their toll. Zummo approaches his work like a professional athlete, which makes a lot of sense when you think about the physical effort required of a drummer in a punk rock band. He prioritizes his health and wellness, and frequently texts with Gabby and Laird to get advice on the best workouts to do on the road. He even travels with multiple blenders so he can always be ready to make smoothies after his shows.  

Zummo's dedication to his general wellbeing is inspirational. From using Laird Superfood products to taking ice baths, to maintaining a strict workout regimen, he does it all. We recently had the chance to catch up with Zummo and learn about all the amazing projects he's working on, as well as learn a thing or two about the daily rituals that keep him balanced and charged.
Hey Frank! We know you have a lot going on, so tell us, what are you up to right now?!
I'm currently in a hotel room in Quebec City. It's an off-day on our tour, so we have the day to explore this city. I'm currently at the beginning of a world tour with Sum 41. This tour is pretty exciting because the shows abroad are incredible, and we get to see all these amazing places, which is one of the best parts of doing this.
You've had a pretty packed year! What different projects have you been working on?
In addition to touring with Sum 41, I've been working on solo music, which I just launched at Coachella this past year. I've been in the studio working with a bunch of amazing artists, producers, and songwriters. I released my first song with Kayzo earlier this year. In 2020 I'm going to put out a record with all of these collaborations and start doing shows and festivals. It's something that's challenged me and pushed me in a new direction, and has been really fun to do and super inspiring.
One of the most special things I've been apart of this year, in partnership with Vans, is traveling around the world doing educational drum workshops and motivational speaking for younger musicians. I don't get to do that on tour, as we're shuffled in and out so quickly, so this is a way for us to break down all the barriers and sit in a circle with the kids on the floor and just talk about life, and answer questions that aren't even musically related. It's been so great to give back like that. We've even gone on morning shows in certain markets and I've brought a kid from each one of those cities with me to drum on the shows with me. It's awesome to help jumpstart their careers like that.
Photo by Aaron Berkshire
You've built an incredible life around your passion for music. What advice do you give to people who want to go after their passions?
That's a great question, and it's literally why I get up every day and do this. When I was 5 years old I went to my first concert and I knew at that moment, being in the arena and just seeing that and feeling that, I knew it was what I wanted to do. All I wanted to do was music.  
I tell this to all the kids when I do the workshops; if this is what you want to do, and this can be about anything in life, literally just define your goals and set your path and don't stop until it happens. Everything is achievable, I am proof of it. There is no, "you've gotta be in the right place at the right time" or "be lucky," like that's not relevant. As long as you stay true to what you're doing and surround yourself with the right people, and use social media, for the right reasons, to put yourself out there and to connect with people, you can really do anything. There are so many great assets to the social media world that I didn't have when I was coming up. It's just about putting yourself out there, taking risks, and taking chances. 
Now that I have a family and a home, it fuels me, even more, to be able to provide. I'm doing what I love and the fact that I can provide for a family and a home and all that is crazy to me, still to this day. I'm so grateful for that. Being away from family is the only hard part because I'm touring so much. I didn't get to see my firstborn take his first steps because I was in Europe. I saw him take his first steps in my hotel room, like weeks later. That is the hardest part, but you just make it work however you have to.
How important is it for you to have daily rituals?
I am OCD about my daily routines. I have a specific tour routine that helps me stay balanced and charged on the road.
Franks Tour Routine: When I'm on tour, two hours before the show is when it's go-time. I'm lucky to have my own dressing room because I have a drum set in there,  no one wants to hear that. The first thing I do is an ice bath for 3 and a half minutes. I especially focus on icing my arms, basically from my fingertips to my shoulders where I get the most inflammation. I'll do all my stretching and light cardio, like jump rope, push-ups, sit-ups, to get the blood flow going. After my body is warmed-up I play my practice drum set. I'll get on the kit for 45 minutes to an hour. Playing this kind of music in this band is like being an athlete, especially in the cold hockey arenas where we are playing, I have to be super loose and warm when we get out there to play as fast as we do.
After the show I go back into the dressing room to ice, stretch, and wind down. To finish the routine I head to the bus and make the most insane smoothie to refuel with "a million" Laird Superfood products, acai, mangos, and many more ingredients. Afterward, I usually lay in my bunk, read, and sleep. 
How did you discover Laird Superfood products?
Gabby sent me a care package because I love coffee and I instantly loved the products. I literally wake up with you guys and I go to bed with you guys. It fuels my whole day. The first thing I do is drink Activate while I take my vitamins and supplements, and then I make the coffee with all the Superfood Creamers. I'm usually alternating between the different Hydrate Coconut Waters throughout the day, especially after a show. In the evening I load up my smoothie with the Turmeric Creamer and the Performance Mushrooms. Turmeric is my best friend.  I love how good it tastes as well, even with coffee. I would never think it would be a good comb, but it's pretty incredible.
Have you always lived such a health-focused rockstar life?!
It's so funny how life has changed. Back in the day when I was touring we used to have a Jager Machine and now it's the complete opposite lifestyle, which is awesome because I want to be able to do this forever. I don't want to have problems and health issues and all that, especially having kids now, I want to be healthy and around as long as I can for them. 
You're a father, a touring musician, and have so many incredible side-projects. How do you maintain the energy to maintain this epic lifestyle?
This is always an interesting question for me because I just don't think about it, it's how I operate. I'm from New York, where it's such a fast-moving, fast action place, so it's in my DNA. At a really young age, my grandfather had a theater company and I was the stage manager and production manager. I was in charge of literally everything for the show, from getting the cast on stage, to taking tickets and ushering people to their seats. I think that really taught me how to get everything done and be so disciplined. 
It's just about figuring out how you can navigate and get it all done, because, I mean everybody can. There really is enough time to sleep, get it all done, be proactive in your day and achieve what you want to achieve. It all comes down to discipline. It's something that can't happen overnight if you're someone that struggles with that, but it's definitely achievable. 
I move really quick and that's how I think I'm able to get at it all in. I enjoy doing multiple projects but the most important thing is family and having time when you are present and shut off from everything else. I'm making a big effort to do that with my kids. I don't want to be spending time with them while I'm on my phone and working. 
Photo by Ty Barch
What is your favorite Laird Superfood Product?!
Right now my favorite is Instafuel, because it has the coffee and the creamer combined in it. At home, I'll obviously grind my beans and use my french press but when I'm on tour it's a little different, so that product has been my favorite.
I'd have to say that the Turmeric Hydrate is another one of my favorites. I'll add that in my smoothie and drink it in water as well. My newest favorite is the Pineapple Mango Hydrate-that's a really good one.
What are you most excited about right now?
I am really excited about working on and putting out solo music and playing solo shows. It's been something that's been really incredible to work on and It's something I've never done. We're lining up a couple of pretty incredible shows right now overseas and in America to launch it, and I'm excited to really do that. That will be my focus for personal stuff for 2020 and fitting that around the wild Sum 41 tour schedule.
*Header image by @tijsvl