Fuel for What Fuels You x Colleen Quigley
Posted on April 28, 2021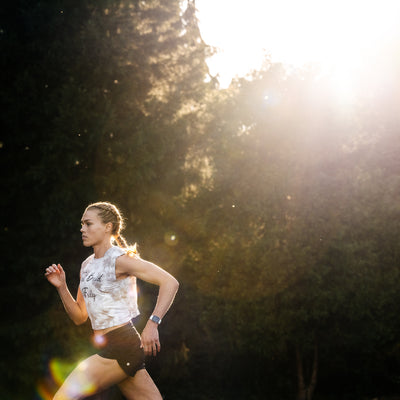 We recently had the pleasure of spending the day with Colleen Quigley as a part of our Fuel for What Fuels You series. The professional track athlete is currently gearing up for her second trip to the Olympic Games on behalf of team USA. Whether Colleen is logging hours at the track or at home chilling with a cup of coffee and her adorable dog, Pie, she constantly exudes a sense of enthusiam and positive energy that is contagious.
Her passion and drive for what she does is clear, whether it's in her training, her business ventures, or the way she approaches her daily rituals. It was an honor to spend the day learning more about her daily rituals. We are stoked to play a small role in fueling her days, from chasing after gold to simply enjoying a superfood coffee while the sun rises.
Check out our Fuel for What Fuels You episode with colleen below, and read on for a Q and A with the Colleen. Don't forget to scroll to the bottom to shop her favorites! 
Hey Colleen! Tell us a little bit about who you are and what you do!
My name is Colleen Quigley, and I'm a 2016 Olympian in the sport of Track and Field, specializing in an event called the Steeple Chase, which is an interesting crazy fun event, and now I am training for the Tokyo Olympics and gosh, maybe even 2024 in Paris. Who knows!
What keeps you inspired?
My inspiration and motivation for what I do has definitely changed over the past few years. When I first started running, I had no aspirations of going to the Olympics or even being a professional runner. That was never my driving force, I was just having fun, and I loved being part of the team. My inspiration is not necessarily the medals, and records, and fast times, but it's when I go to U.S. Champs and I get done with my race, and there are girls waiting at the finish line with signs with my name on it and with their hair braided, and they are so excited to see me. That's inspiring to me. They would say I inspire them, but seeing them inspires me to work harder.
What does health mean to you?
To me, health is more than just winning races and running fast. For me, I know that if my mental health and well-being is not in a good place, winning a race or setting a record isn't going to fix that. So for me, it's the everyday checking all the boxes of my mental health, physical health, nutrition, emotional health... it's a well rounded health. When I do all that, bonus, I also perform better and I'm going to have more fun and consistent training. You don't have to sacrifice your mental health in order to achieve your goals. You can do both.
What fuels you?
What fuels me is to get feedback from the younger athletes who are following me on my journey. Feedback from them and even their parents, saying how what I am doing affects them, how it makes them feel that I am someone they can look up to and relate to, that makes me feel like what I am doing matters.
If I go out there and run fast and get a record, and the medal sits in my closet to show my grand kids one day... that's cool, but I want to change people's perceptions of themselves and change their life, like right now.  If you don't take the time to share your journey and make those connections and build a sense of community, then it's a selfish endeavor. Being an athlete can, in a sense, be inherently selfish. You spend so much time just, like, thinking of yourself, your needs, your body, how you're feeling, constantly, everyday. So, what fuels me is thinking about how what I am doing may affect someone else's life. Hopefully, some young girl in the world, her life is changed because she saw me doing something that I was super passionate about.
What are your daily rituals?
Walking the dog, doing my mediation, going for my run, and having a really nice coffee moment in the morning, while checking my email and getting the day going.
How long have you been incorporating Laird Superfood into your life?
I've been using the Superfood Creamer for a few years. It tastes better. I have a bit of a sweet-tooth so I love the subtly sweet flavor, but it also just makes me feel ready to tackle the day and get some work done. I always have so much going on, I need to be on my toes and ready to go. I spend a lot of time on the road traveling, so I also know I can bring the creamer with me to give a taste of home no matter where I am in the world.
What is your favorite Laird Superfood product?
My favorite Laird's product is the Superfood Creamer, just the original OG with Mushrooms, I take it with me wherever I travel around the world!
Shop some of Colleen's favorites below, and don't forget to follow her here to track her training journey!