Journey Back to the Surf | Peru Part 3
Posted on January 27, 2020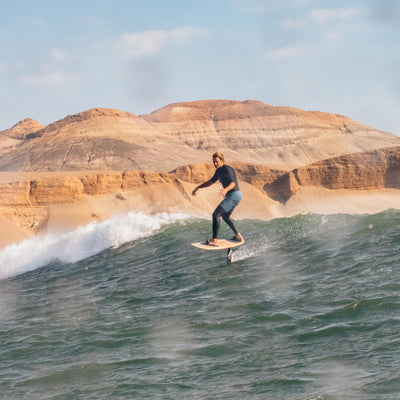 All good journeys end by the ocean, especially when you are traveling with Laird Hamilton.
We woke up at 4am in Trujillo where Laird and our team piled into a car to head to a remote surf spot in a small town called Pacasmayo. This coastal area of Peru is known for having some of the longest waves in the world. The waves here can stretch as far as one and a quarter miles (2.1 kilometers).
Laird surfed his Hydrofoil all morning and caught some epic waves. Our photographer on the trip captured some amazing shots. We took a lunch break around noon at the Chicama Surf Boutique Hotel. We met locals and travelers, including a 23-year-old Peruvian pro surfer! 
After lunch, we took on more waves. The long waves allowed for multiple people to Hydrofoil board on the same wave. After an epic surf day, we tucked into our beds for an early night.
We are incredibly thankful to have had such a beautiful experience visiting Peru. From meeting with the passionate farmers who produce the coffee beans we use in our products, participating in the cupping process that ensures we use the most flavorful coffee beans, to surfing some of the longest waves in the world, this is a trip we will never forget.
Thank you for coming along with us for this unforgettable journey in Peru! We hope you learned more about where we source our coffee beans, so you can feel even more confident when you incorporate our products into your daily rituals.
Our lives are made up of rituals-both big and small. Rituals move us and motivate us. They help us process time. They keep us on track and they keep us going. Many of our daily rituals are centered on food. That's why we care so much about making sure our products use the best ingredients possible. We're here to help you make sure your rituals prioritize you. It all comes down to a simple message; Better Food. Better You.