Not all Non-Dairy Creamers are Created Equal
Posted on April 25, 2019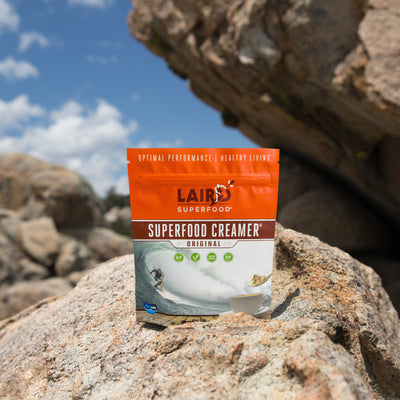 Just because a product is dairy-free does not necessarily mean that it is an all-natural option.
Almost all non-dairy creamers include a variety of added ingredients like gums, artificial flavorings, "natural flavorings", and other preservatives. 
Laird Superfood Creamers are the only vegan powdered creamers available that do not
contain any artificial flavorings, unnecessary additives, or preservatives.
Take a look at how other popular non-dairy creamers compare.
Laird Superfood Creamers contain only the highest quality whole-food ingredients, so you can elevate your coffee without compromising on the ingredients you put in it. You'll never find hidden ingredients under the veil of "natural flavorings". We believe that you should be able to know exactly what you're consuming so that you can trust the quality of the product...always.
So what's in our creamers?
All of our Superfood Creamers start with the base of our Unsweetened Superfood Creamer which has just three simple, functional ingredients. 
Coconut milk powder
Extra virgin coconut oil 
Aquamin (calcium derived from red sea algae)
Our Original Creamer contains a small amount of organic coconut sugar to add a slight sweetness.
With an average of just 4 whole-food ingredients per flavor, these creamers are by far the cleanest option available on the market. 
Each ingredient is sustainably sourced and carefully selected to be functional and add premium flavor. All Laird Superfood Creamers contain the full range of naturally occurring MCTs from Organic Extra Virgin Coconut Oil, are shelf-stable, and require no refrigeration.
Whether you're looking to make the switch from dairy, or you want to take the flavor of your coffee up a notch, Laird Superfood Creamers are unparalleled in their lists of pronounceable ingredients.
Try for yourself! Shop Original Superfood Creamer now.