Reef McIntosh | The Legendary Surfer's Daily Ritual
Posted on January 17, 2020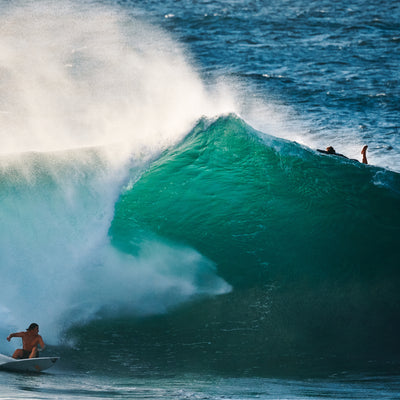 Reef McIntosh, award-winning surfer incorporates Laird Superfood into his Daily Ritual.
If you've ever been lucky enough to attend Pipe Masters, it's likely you've seen Reef McIntosh. Not only is the legendary surfer 6'3", but he's had a stand-out career that has brought him back to Pipe Masters for two decades. From winning the Pipeline Invitational in 2014, claiming a long-term sponsorship with Quiksilver, taking first in competitions like the Da Hui Backdoor Shootout, and being known for his ability to fearlessly charge massive waves; Reef lives an undeniably epic life.
For the past 18 years, he has managed one of the most coveted locations on the North Shore: the Quiksilver House at Pipeline. On top of all of this, he is a father of two, a husband, and an entrepreneur. We had the chance to spend some time with Reef at the infamous Quiksilver House and learn more about how he manages to balance it all.
Check out the video below to see the daily rituals that are key to Reef's success and read on to learn more about his love for Laird Superfood.
Laird Superfood: Hey Reef! Real quick, how would you describe what you do and who you are in a sentence!?
Reef McIntosh: Reef is a 43-year-old man, has two kids, is a husband, a pro-surfer and an overall hustler at the end of the day.
How many years have you been coming to Pipe Masters?
I first attended Pipe when I was 17, but that was just a splash in the pond. I came back again when I was 24 and I felt like I was older, and I don't want to say wiser, but I was just older and more prepared for the mental thing that goes on around here. 
You are known as being incredibly fearless. What goes through your mind before taking on a massive wave? How do you push past the instinctual fear that can arise in those situations?
RM: That's pretty cool that people think that, but it's actually kind of the opposite. I am always scared. I think it's human nature, if you're not scared then something is kind of wrong with you. I use fear and channel it to become better. On top of that, you have to add the 20 years of experience in the lineup, which always helps.
What advice do you give to the younger surfers who are here for the first time?
They come pretty young. So, if you're a young kid, like 14 or 15, I always just try and keep it simple for them, because it's pretty intimidating. I always tell them, 'just go in the water, don't even catch a wave, but just go feel the energy of the ocean around here and get comfortable with it. It's all about baby steps.'
It's so cool to see people of all ages surfing together—the community aspect of it is so special. 
The cool thing about surfing is, you can do it as young as you want and as old as you want and it still brings the same joy. My dad is 71 and he is still stealing my surfboards and going surfing before work.
Why did you first start using Laird Superfood?
There is so much stuff out there and I didn't turn to Laird Superfood immediately, but I always knew it was there and I had heard of it. Eventually, I had a friend who said, 'here try this,' and the rest is history. I was hooked.
How do you use Laird Superfood in your life?
The cool thing about Laird Superfood is that there is so much diversity in the brand. I could probably survive on it if that's all I had in life, because there is so much good stuff in it, from the creamers to the hydration. You can even put it in your food if you want, or simply stir into your water. It has all the stuff my body needs to work out at its best.
The environment here at Pipe Masters is very competitive and intense. What key "Daily Rituals" help you stay grounded through the chaos?
Obviously being in Hawaii, I live a naturally active lifestyle. I have kids as well and it can get very taxing. I do my best to wake up early and stay ahead of the kids, the surf, and everything going on in the house or on the beach. Laird Superfood products keep me running at a high level. From ACTIVATE in the morning before I even have my coffee, and whatever Laird Superfood Creamer I choose to use in my coffee, and then as the day goes on, I'm hydrating because I am either surfing or chasing kids or picking up something.
There's a lot of activity in my life and I need every advantage I can get, and Laird Superfood gives me that advantage. You don't need to be an athlete at Pipe Masters to feel the benefits of the product, you can just be a dad and it helps out in a big way.
What's your favorite part about Pipe Masters?
I like seeing all my friends here. I like seeing the kids I've watched grow up, who are now out there competing. When it's all over I'll be looking back on life being like, man, I watched over 20 years of Pipe Masters. It's kind of a blur, but I'm sure if I sat down with someone, it's like an onion, and I could literally peel it all back and go through every year. Being in this house for 20 years has been so cool. I wish walls could talk.
It will be sad when this phase of my life is over, but I know nothing lasts forever and I'll go onto the next step in life. But I've truly enjoyed every year, it's been a dream. 
(Photography by @Seanstanleyphoto.)