Running on Mushrooms with Ultra Trail Runner Dani Moreno
Posted on July 11, 2019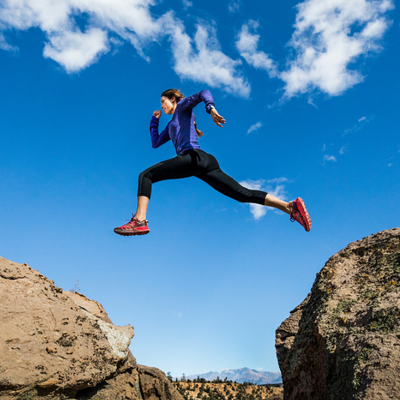 I have always been a fan of mushrooms. But nothing compares to the love I have for them now, particularly Laird Superfood Performance Mushrooms!
Being a female endurance athlete, there are 2 things I am constantly looking for my food to provide: energy and immunity. So it has come as no surprise that over time I have found that the incorporation of mushrooms into my diet has played a key role in keeping me healthy and my energy levels consistent as I tackle training for my races. 
I try to get most of my vitamins and nutrients from the foods I eat versus supplements. It's for this reason that I have become an advocate for utilizing superfood powers to give the food I am eating an extra boost. I particularly like Laird Superfood Performance Mushrooms because it's simply real whole mushrooms that have been dried and ground, not an extract or something made in a lab. It's also a curated blend of 4 powerful mushrooms: Lion's Mane, Chaga, Maitake, and Cordyceps.
While Performance Mushrooms are easy to mix into your coffee or water, it's not always fun to just rely on beverage mix-ins for nutrients, so I have found some ways to sneak Laird Superfood Performance Mushrooms into meals throughout my day.
Breakfast: Pick-Me-Up Pancakes
There are a few things that can work for breakfast, but I mostly add them into my pancake mixes. The taste is so subtle and compliments any toppings like manuka honey, almond butter, berries, goji berries, or dark chocolate chips. Throw in some protein powder and you're good to go!
Ingredients
Directions
In a food processor or blender, blend the oats into a flour-like texture.

Add in the bananas and continue to blend.

Add in the eggs and Performance Mushroom powder, then lightly blend to mix until smooth.

Pour about 1/4 cup of the batter into a lightly oiled (olive oil works best) pan (make sure it's not too hot!) and cook until you see little air bubbles. Flip and cook for another few minutes.

Serve and enjoy, or freeze to make it an on-the-go snack for later!
Lunch: Power Smoothie
I love smoothies because they are great at any time of the day. It took some time and experimenting to find a recipe that works well for me, and now I'm sharing it with you!
Ingredients
1/2 cup frozen mango

1/2 cup frozen peaches

1/2 inch ginger - peeled

1/2 cup coconut water

1 tbsp chia seeds

1 banana

handful of ice
Directions
Place all of the ingredients in blender and mix.

Pour it into your favorite reusable travel cup and drink up!
Dinner: Performance Chili
Again, I'm going back to the idea that most powders work their magic when you compliment their benefits with ingredients that will help you soak up all their goodness. What I truly love about the Performance Mushrooms is how well it mixes into so many dishes. It was hard to pick a favorite recipe but chili, in particular, is great because it's so versatile. In this recipe, you get a boost of Vitamin C and A, as well!
Ingredients
4 cups 1-inch chopped sweet potato (from about 3 medium peeled sweet potatoes)

2 cans black beans, drained and rinsed

1 jar salsa

1 freshly chopped tomato

1 large red bell pepper finely chopped

1 teaspoon cumin

1 cup vegetable stock

1 cup cooked quinoa

1 clove chopped garlic

½ teaspoon kosher salt

1 teaspoon smoked paprika (optional)

3 teaspoon Laird Superfood Performance Mushrooms

1/2 avocado
Directions
Place all the ingredients in a slow cooker, stirring to combine. Cook on high for 3-4 hours or low for 6-8 hours, or until potatoes are cooked through.

Mix Laird Performance Mushrooms.

Serve and top with avocado!
Nutrition is key for everyone, not just elite athletes. And I hope that by reading how I incorporate Laird Superfood Performance Mushrooms into my diet will inspire you to figure out where you can sneak some into yours! 
Dani Moreno is a professional MUT ( Mountain.Ultra, Trail) runner. She was a member of the 2019 Team USA Trail Team and was most recently the USA 50k Trail Champion. You can learn more by checking out her website.