Almond Hazelnut Cacao Butter Recipe
Posted on January 8, 2020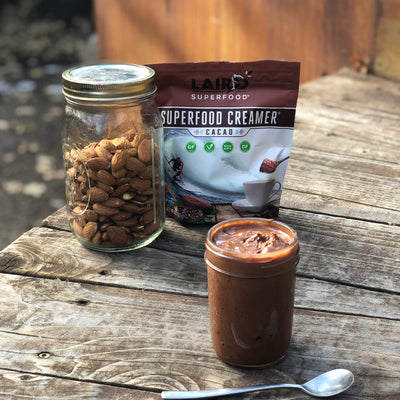 We've got a very delicious treat for you today! It's Almond Hazelnut Cacao Butter, brought to you by Stephanie Howe! Stephanie is a local nutritionist, and was thrilled to develop this delicious, plant-based nut butter with us! It's the perfect thing to spread onto a slice of toast, an apple, or to simply eat with a spoon (we will not judge)!
Our Cacao Superfood Creamer adds a delectable chocolate flavor to this nut butter, taking it to a new level. Make it and see just how easy it is to make your very own nut butter at home!
Servings: Makes a mason-jar full of nut butter!
Time: 60 minutes
Ingredients:
2 cups raw almonds
1 cup hazelnuts
5 Tbs Laird Superfood Cacao Creamer
2 Tbs Cacao (optional, will add an even deeper chocolate flavor!)
1 pinch sea salt 
Instructions
1.) Add almonds and hazelnuts to a high-power food processor or Vitamix. Turn on high and blend for a few minutes, scraping down the sides as needed.
2.) Add Laird Superfood creamer and sea salt. Blend again until it takes on a creamy texture, be patient as this can take a few minutes! Allow the food processor or blender to "rest" at several points to avoid getting too hot!
3.) For extra chocolatey nut butter, add additional Cacao or more Laird Superfood Cacao Creamer!
4.) Store in a jar for as long as it sticks around (trust us, it's so good it won't last long)!