Easy Oatmeal Recipes - 5 Ways
Posted on March 11, 2022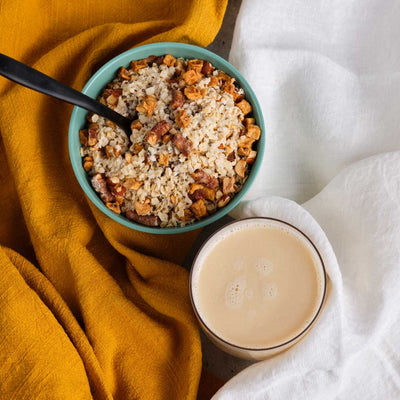 Oatmeal is one of the most classic breakfast dishes on the planet, and yet some people still mention that they find it to be bland. Not anymore!
Check out these 5 delicious ways to jazz up your classic oats with some of our favorite superfoods and never eat a boring bowl of oatmeal ever again.
Looking for flavor without any extra effort? Check out Picky Performance Oatmeal!
THE CHOCOLATE WAY
(great for chocolate lovers!)
I mean, does this one really need an explanation? Rich oatmeal texture with delicious hot chocolate flavor right on your spoon. This recipe offers some high-quality carbohydrates and would be great to enjoy before a large workout, or to simply fuel your morning deliciously!
 Prepare your oats, and mix in:
THE NUTS N' SPICE WAY
(great for staying satiated)
This recipe is perfect for the times you want to stay satiated. Ghrelin, the "hunger hormone" that signals to your brain when it's time to eat, is kicked down when you have ample amounts of protein and healthy fats. This recipe includes delicious healthy fats from coconut oil, Picky Bars Drizzle, and nuts.
Prepare your oats, and add:
1 teaspoon coconut oil

¼ teaspoon nutmeg

1 Tablespoon flaxseeds
Top with 1 Tablespoon of Picky Bars Drizzle & 1 Tablespoon of a high-fat nut like walnuts, macadamia nut or hazelnuts.
THE "BERRIES & CREAM" WAY
(great for post workout/recovery)
After a workout, it's important to consume a high quality protein to help build and repair muscle tissue that was broken down during exercise. Specifically, you want a "complete" protein source (that contains all 9 essential amino acids). That's why the inclusion of our Renew Protein (a complete protein source with Sacha Inchi seed) is a great post-workout snack!
Prepare your oats, and mix in:
THE PEANUT BUTTER & JELLY WAY
(great for the sweet tooth!)
There's nothing like the classic flavors of PB&J to bring you back to childhood. But unlike your childhood version, this one isn't riddled with added sugars in the double-digits and high glycemic carbohydrates that will spike blood sugar and lead to a crash. The fiber in the oats helps to keep blood sugar more stable, making this an insanely delicious snack to help you stay sustained.
Prepare your oats, and add:
THE "OATMEAL FOR ONE" WAY
(great for on-the-go!)
Adapted from eatingbirdfood.com
This is a baked oatmeal cup easily prepared ahead of time and made-to-order, or you can bake the night before and enjoy in the morning with zero prep. This recipe is Apple Cinnamon flavor, but you can make it your work with any fruit you like!
Ingredients
½ cup old fashioned rolled oats

½ cup unsweetened almond milk

½ teaspoon chia seeds (optional)

½ teaspoon baking powder

¼ teaspoon ground cinnamon

1 pinch sea salt

2 Tablespoon unsweetened applesauce

1 Tablespoon maple syrup

2 Tablespoon chopped apples, plus more for topping

1 Tablespoon Picky Bars Drizzle (for drizzling!)
Directions
Preheat oven to 350°F.

Combine all ingredients in a mixing bowl.

Pour into a greased ramekin. Top with additional chopped apples.

Bake at 350°F for 30-35 minutes or until an inserted toothpick comes out clean. 

Let cool, add toppings of choice and dive in.