Plant-Based Kiwi Matcha Green Smoothie Recipe
Posted on March 14, 2022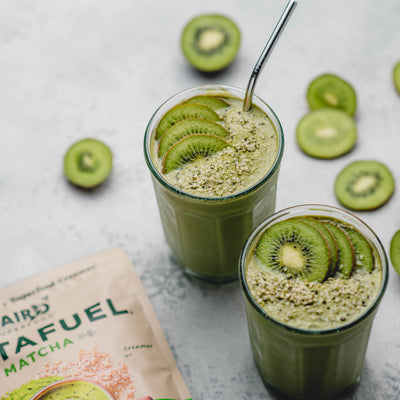 Are you ready to taste an absolutely delicious green smoothie that doesn't taste like a salad in a jar? This tropical tasting smoothie with the added boost of our Matcha Instafuel is a Vitamin C blast in a glass!
Kiwis are kind of a sleeper fruit when it comes to Vitamin C content, most people don't realize that the average kiwi has more than most fruits including, lemons, strawberries, papaya, pineapple, or even oranges!
Ingredients: 
½ cup coconut milk

2 kiwis

2 handfuls of baby spinach or kale

1 banana (room temperature)

1 ½ cups frozen pineapple chunks

2 Tablespoons Matcha Instafuel

Hemp seeds (optional) for topping
Directions:
Peel and chop the kiwi. Add all ingredients to the blender, adding the liquids first and breaking the banana into pieces. Blend until smooth, adding a splash more water if necessary. Drink immediately or store in the refrigerator for up to 1 day in a covered jar.
Enjoy!