Blueberry Pie Pancakes Recipe
Posted on January 15, 2020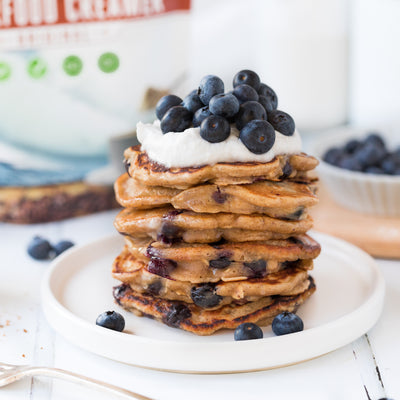 Wake up! These hearty, plant-based Blueberry Pie Pancakes are a great way to start any day! Although they taste indulgent, they are plant-based and you can easily make them gluten-free! We like them with a little sweetness from coconut sugar, but feel free to omit the sugar! Our Original Superfood Creamer adds a superfood boost and a delicious creaminess to this recipe!
Although this is a perfect Sunday morning recipe, we'd encourage you to wake up a little earlier on a Monday to whip these up and start your week on a great note.
This recipe was created by Anett Velsberg.
Enjoy!
Serves 2
Time: 10 minutes
Ingredients:
1 cup flour (such as plain, oat or gluten-free)

1/4 cup rolled oats (gluten-free if needed)

1/4 cup Laird Superfood Original Creamer

2 Tbs brown or coconut sugar

1 tsp cinnamon

1 tsp baking powder

1/2 tsp sea salt

1 tsp pure vanilla extract or paste

3/4-1 cup unsweetened plant milk, as needed

1/2 cup blueberries, more to serve

1-2 Tbs cooking oil (optional)

1/2 cup coconut whipped cream, to serve

1-2 Tbs maple syrup, to serve
Directions:
Place the flour, oats, Laird Superfood Creamer, sugar, cinnamon, baking powder and sea salt in a medium-sized bowl. Stir until combined. 

Pour in the vanilla followed by the milk until you get a thick but pourable batter. Stir in the blueberries.

Pour batter onto an oiled non-stick skillet on medium-low heat, using about 1/4 cup for each pancake. Cook until bubbles form on the surface, then flip and continue cooking until browned on the bottom.

Divide between plates and serve immediately with coconut whip, fresh blueberries and maple syrup. Enjoy!