Plant-Based Chai Bundt Cake Recipe
Posted on October 13, 2020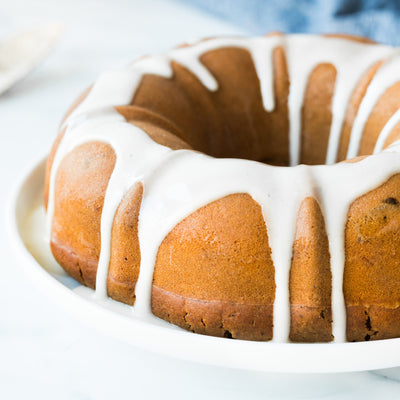 Featuring our brand new Chai Instafuel, this delightful bundt cake mimics the flavors of a cup of the ever-popular chai tea. Our Chai Instafuel adds a delectable blend of creamy coconut and organic spices to add a superfood boost to this indulgent treat. It's the perfect pairing to serve alongside a mug of coffee or Chai!
Chai Bundt Cake 
Time: 60 minutes
Serves 8-10
Ingredients
3 cups plain/all-purpose flour (sub gluten-free oat flour to make gluten-free)
1 cup almond flour
1 cup coconut or brown sugar
¾ cup Laird Superfood Chai Instafuel
2 tsp baking powder
½ tsp baking soda
½ tsp sea salt
3 cups water
¼ cup melted vegan butter or refined coconut oil
1 tbsp lemon juice or apple cider vinegar
2 tsp vanilla paste or extract
¼ cup chopped dates 
For the vanilla glaze:
1 cup powdered/icing sugar
1 tsp vanilla paste or extract
2-3 tbsp almond or soy milk
Directions
Preheat the oven to 350F/180. Grease a bundt cake pan well with vegan butter or oil. 

In a medium-sized mixing bowl, combine the regular flour, almond flour, coconut sugar, Chai Instafuel, baking powder and baking soda. Stir with a whisk until uniform.

Make a well in the middle of the dry ingredients and pour in the water, melted vegan butter, lemon juice and vanilla. Stir until uniform. 

Gently fold in the chopped dates. Do not stir too much or the cake might get rubbery.  

Pour batter into loaf pan and bake for 30-40 minutes, depending on the shape of your bundt pan, until a toothpick inserted comes out clean.

Remove from the oven and cool for 20 minutes in the pan, then turn out onto a plate and cool completely.

While the cake is cooling, make the icing by whisking together the powdered/icing sugar, vanilla and almond/soy milk until you get a thick but runny icing.

Drizzle icing over cake. 
Serve immediately or keep at room temperature in an air-tight container until needed.
About the Author
Anett Velsberg is an experienced food photographer, videographer, recipe creator and food stylist from Tallinn, Estonia. Her heart lies between travelling the world and creating healthy wholesome recipes for body and mind, that not only taste amazing but look delicious, too.