Vegan Chia Chocolate Milkshake Soufflé Recipe
Posted on February 1, 2019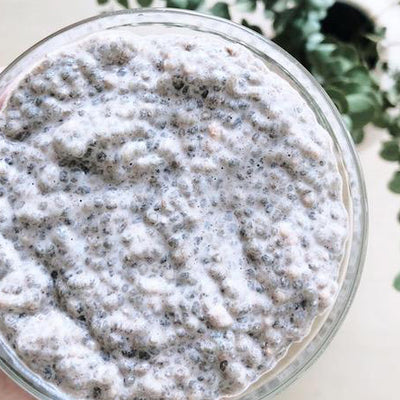 This plant-based chia seed soufflé featuring Laird Superfood Cacao Creamer is an instant source of fiber, omega-3 fatty acids, and protein. Try it as an easy breakfast, or a hearty afternoon treat.
Servings: 4-6 servings
Ingredients
1 cup chia seeds 
1 cup unsweetened dairy-free milk of choice
1 cup vanilla dairy-free milk of choice
1 tbs. cacao powder
1 tsp. cinnamon
1/4 cup maple syrup (or to taste - optional, for sweetness)

Directions
In a blender, add all ingredients except chia seeds and blend for 30 seconds.
Pour blended mixture over the chia seeds (we recommend using a mason jar for storage).
Stir gently with a spoon, let sit for 10 minutes.
Stir again - if it's too thick add a splash of milk.
Let sit for another 10 minutes before eating. Will last in the fridge for 4-5 days (depending on your milk of choice).
About the Author
Kat Kunde
Kat is a personal trainer, fitness enthusiast, and advocate for empowered eating. Follow her on Instagram: @norwegianstrong