Plant-Based Creamy Spring Pasta Recipe
Posted on August 26, 2020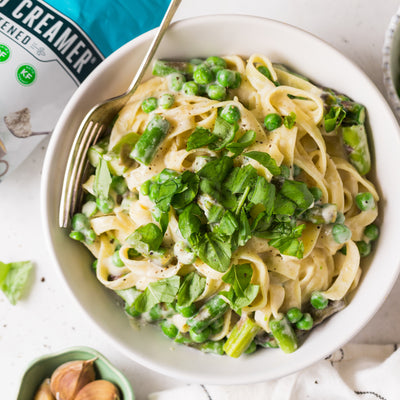 Did you know our Superfood Creamers blend perfectly into pasta sauces?! It's an easy way to add a creamy plant-based boost to your dinner, without any dairy!
This pasta is so creamy and delicious, you wouldn't even think that it's plant-based! And best of all, it's simple to make! Our Unsweetened Superfood Creamer adds a delicious creaminess, without any extra sugar! We also added lots of veggies to make this a nourishing and delicious early summer meal, perfect for lunch or dinner!
Serves 2
Ingredients
For the pasta:
1 tablespoon olive oil

9 ounces regular or gluten-free pasta, such as tagliatelle or fettuccine

1 1/2 cups trimmed and chopped asparagus

1 1/2 cups fresh or frozen and defrosted green peas

4 garlic cloves, minced

2-3 fresh basil leaves, to serve
For the sauce:
1/2 cup raw cashews

1 cup water, more if needed

1/4 cups nutritional yeast flakes

1 tbsp onion powder

1 tbsp freshly-squeezed lemon juice

Sea salt, to taste

Freshly ground black pepper, to taste
Directions:
Bring a large pot of salted water to a boil. Add the pasta and cook until al dente, according to package instructions. Drain and set aside.

While the pasta is cooking, add the creamer, cashews, water, nutritional yeast, onion powder lemon juice, sea salt and black pepper to a high-speed blender. Blend on high for 2 minutes, or until completely smooth and creamy. Set aside.

Heat the olive oil in a large sauté pan over low heat. Add the asparagus and peas and cook for 3-5 minutes, until the vegetables just begin to soften. Add the garlic and continue to cook for 1-2 minutes, until soft and fragrant.

Stir in the sauce and bring to a simmer. Turn the heat to the lowest setting and add the pasta to the pan. Toss to coat. If a slightly thinner sauce is desired, add a bit of warm water to the pan to thin it out. Taste and adjust seasoning with more sea salt and black pepper, if desired.

Divide the pasta between bowls and top with fresh basil. Serve immediately. Enjoy!