Italian Wedding Soup | Laird Superfood
Posted on January 22, 2020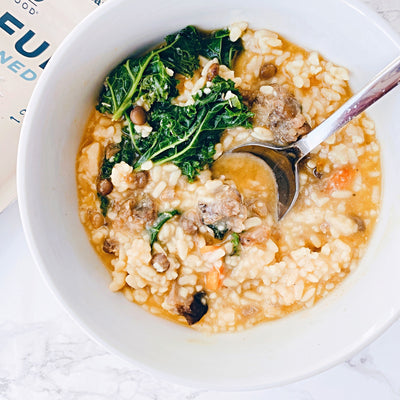 This creamy, plant-based Italian Wedding Soup Recipe is sure to be a crowd-pleaser.
Is there anything better than a warm cup of soup in the middle of winter? Our Superfood Creamer adds a delectable creaminess, without any dairy! The best part? This recipe only requires 6 ingredients!
This recipe was created by Madeline, of Madeline's Cookbook.
Serves 2
Time: 10 minutes
Ingredients:
1 veggie burger (Madeline used Nobull Spicy Italian Lentil)

1/3 cup cooked rice

1 cup vegetable broth

Two handfuls chopped kale

1 cup chopped carrots
Directions:
Microwave the veggie burger to make it soft (about 1-2 minutes), and then break apart and roll into balls. Air fry, bake, or fry in an oiled pan until crispy.

Cook your rice according to the package. Pour broth into a pot, and add cooked rice, and Laird Superfood Creamer. Stir to combine.

Add kale, carrots, and "meatballs" and simmer for 10 minutes.

Season to your preference and enjoy!