Laird Superfood Leprechaun Dip Recipe
Posted on March 12, 2021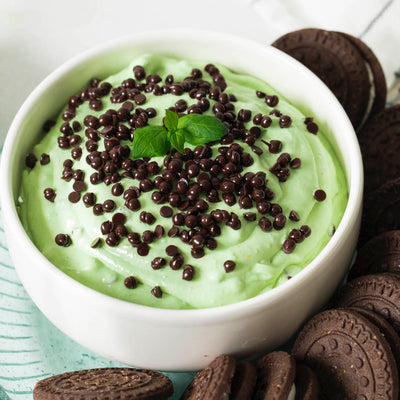 Do St. Patrick's Day right with this delicious plant-based Leprechaun Dip. It's perfect for dipping cookies and fruit. Our Original Superfood Creamer adds a delicious creaminess to the mix and a boost from Organic Extra Virgin Coconut Oil and Aquamin. The whole family will love this treat and trust us, it won't last long!
Laird Superfood Creamers are crafted from the highest quality plant-based ingredients. All of our products are sustainably sourced and thoroughly tested to ensure that you're incorporating the cleanest, finest fuel into your routine. 
Serves 4
Time: 10 minutes
Ingredients:
4 oz vegan cream cheese, softened

1/3 cup vegan whipping cream

2/3 cup powdered sugar

1/4 cup Laird Superfood Original Creamer

1 tsp vanilla extract

1/2-1 tsp mint extract

2-3 drops natural green food coloring or ½-1 tsp spirulina

1/3 cup vegan mini chocolate chips, more for topping

1-2 mint leaves, for garnish

Strawberries, to serve

Healthy oreo-like cookies, to serve
Directions:

Combine the cream cheese, whipping cream, powdered sugar, creamer, vanilla extract and mint extract in a medium-sized mixing bowl. Whip using an electric mixer until light and fluffy, 3-5 minutes.

Add a few drops of food coloring or spirulina until you get a green color. Whip again.

Add the chocolate chips to the bowl and stir gently until well incorporated. 

Spoon the dip into a serving bowl and top with more chocolate chips and a few mint leaves. 

Serve immediately with strawberries and cookies, or keep refrigerated until needed. Enjoy!
About the Author
Anett Velsberg is an experienced food photographer, videographer, recipe creator and food stylist from Tallinn, Estonia. Her heart lies between travelling the world and creating healthy wholesome recipes for body and mind, that not only taste amazing but look delicious, too.