Plant-Based Mint Mocha Recipe
Posted on January 28, 2020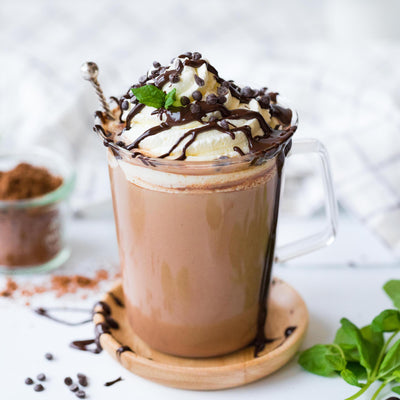 If you love peppermint mochas then get ready, because we have a recipe for a plant based, Chocolate Mint Mocha of your dreams!
Our Chocolate Mint Superfood Creamer is a fan-favorite for a reason! It adds a velvety richness to your morning coffee, but is plant-based and has way less sugar than the "peppermint mochas" you'll find at the drive-through.

We partnered with @anettvelsberg to make a vegan Mint Chocolate Mocha. The vegan whipped cream + chocolate drizzle topping is optional, but like, we highly encourage it.

Let us know if you make this!! Enjoy!
Time: 5 minutes
Ingredients:
1 cup hot oat milk (or other plant-based milk)

1/4 cup strong hot coffee

1/2 date (optional for added sweetness)

1/3 cup vegan whipped cream, to serve (optional)

1 Tbs melted dark chocolate, to serve (optional)

1 tsp mini chocolate chips, to serve (optional)

1-2 mint leaves, for garnish (optional)
Directions:
Place the hot milk, coffee, creamer and date (if using) in a blender and blend for 30 seconds on high, until smooth and frothy.

Pour into a latte mug and top with whipped cream, melted chocolate, chocolate chips and fresh mint leaves. Serve immediately. Enjoy!