Plant-Based Pumpkin Spice Cheesecake Recipe
Posted on November 24, 2020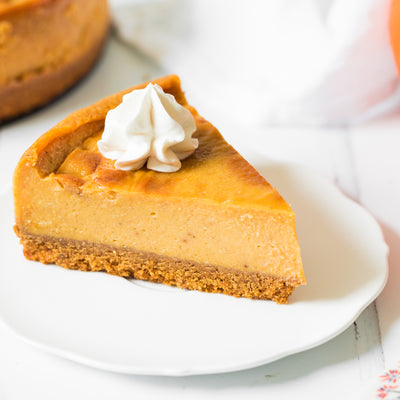 Sure, you can't go wrong with a classic Pumpkin Pie during the holidays, but this year we're take things to a new level with this rich and creamy plant-based Pumpkin Spice Cheesecake!
This delicious and festive twist on a cheesecake is sure to be a crowd-pleaser, and best of all, it's plant-based and has a superfood boost from our Pumpkin Spice Superfood Creamer.
Check out the video below to see the step by step process in action, and find the full recipe below! Let us know in the comments if you whip this together for the holidays!
Pumpkin Spice Cheesecake
Serves 6-8
Ingredients:
For the base:
7 oz Graham crackers or digestive biscuits

1/4 melted vegan butter or refined coconut oil
For the filling:
1 1/2 cups pumpkin puree, homemade or storebought

2 8-oz tubs of vegan cream cheese

3 tbsp cornstarch or arrowroot starch

3/4 cup raw cane or coconut sugar

1 tsp cinnamon
For serving:
1/2 cup vegan whipped cream
Directions:
Preheat oven to 325F. Oil the base and sides of an 8-inch spring-form tin and set aside.

To make the base, place the Graham crackers in a food processor and process until you get a fine crumb. Add the melted butter and process again until evenly mixed. 

Press mixture to the bottom of the spring-form tin. Use the flat bottom of a glass to get it even. Place in the fridge until needed.

For the filling, combine the pumpkin puree, vegan cream cheese, Pumpkin Spice Creamer, cornstarch, sugar and cinnamon in a bowl. Whisk until smooth and lump-free. 

Pour mixture onto the base. Tap the baking tin gently onto the work surface to even out the top and get rid of any air bubbles.

Place in the oven and cook for 60 minutes. Remove from oven and cool for 2-3 hours on the countertop, then place in the fridge for 3-4 hours or overnight to set

To serve, pipe whipped cream on top of the cake. Slice and serve. Enjoy!
About the Author
 Anett Velsberg is an experienced food photographer, videographer, recipe creator and food stylist from Tallinn, Estonia. Her heart lies between travelling the world and creating healthy wholesome recipes for body and mind, that not only taste amazing but look delicious, too.