Plant-Based Rainbow Super Salad Recipe
Posted on July 15, 2020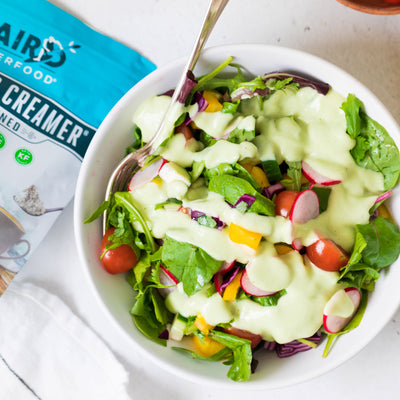 This vibrant salad is the perfect summertime dish.
It's simple to throw together, beautiful to look at, and will leave you nourished and satisfied. 
The best part is the Avocado Dressing, which you may be tempted to spread onto sandwiches or even eat by the spoonful (it's that good). Our Unsweetened Superfood Creamer adds an extra level of creaminess making this dressing a major crowd-pleaser.
Rainbow Super Salad Recipe
Serves 3-4
Ingredients
For the Avocado Dressing
1 medium-sized Hass avocado
2 tbsp lemon or lime juice
2 tbsp Laird Superfood Unsweetened Creamer
1 tbsp extra virgin olive oil
1/2 garlic clove
1/2-2/3 cup water, to desired thickness
Sea salt, to taste
Black pepper, to taste
For the Salad
2 cups leafy greens, such as spinach, mache and/or butter lettuce
1 cup halved cherry tomatoes
1 cup diced yellow pepper
1 cup chopped cucumber
1 cup chopped red cabbage
1/2 cup thinly sliced radish
1/2 cup cilantro
1/2 tbsp lemon juice
Directions:
1. Combine all the dressing ingredients in a blender and blend until very smooth, about 1-2 minutes on high speed.
2. Place all the salad ingredients in a large bowl and toss until evenly mixed. Divide between serving bowls and top with dressing. Serve immediately. Enjoy!


About the Author
Anett Velsberg is an experienced food photographer, videographer, recipe creator and food stylist. Her heart lies between travelling the world and creating healthy wholesome recipes for body and mind, that not only taste amazing but look delicious, too.