Pumpkin Spice Protein Bites Recipe
Posted on October 6, 2020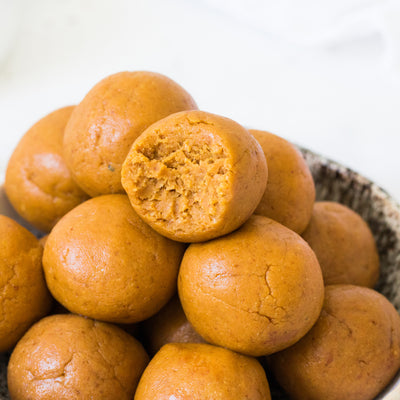 Pumpkin Spice Balls are the perfect snack to make to stay fueled throughout the day! They're made with pumpkin, nut butter, our Pumpkin Spice Creamer, protein powder, maple syrup, and oat flour. It made with almonds, walnuts, pumpkin seeds, pumpkin, dates, protein powder, and more! These warmly-spiced energy bites are quick and easy to make in the food processor.
Makes 10-12 protein balls
Ingredients
1/4 cup unsweetened pumpkin puree
1/4 cup smooth, unsweetened peanut or almond butter
1/4 cup Laird Superfood Pumpkin Spice Creamer
1/4 cup vegan vanilla protein powder
2 tbsp maple syrup
1/3-1/2 cup oat flour, gluten-free if needed
 Directions:
Combine all the ingredients in a food processor and blend until the dough comes together into a ball. You may need to add a bit more oat flour if the mixture is too soft. Alternatively you can mix everything together in a bowl with a spatula until you get a thick dough that sticks together when pressed between fingers.

Shape the mixture into balls. 

Serve immediately or keep refrigerated until needed.