Quick Banana Cacao Shake Recipe
Posted on September 14, 2017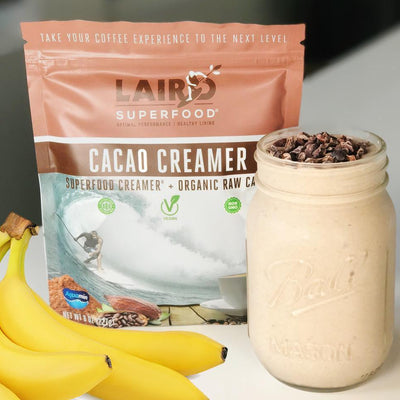 Servings: 2 servings
Ingredients
1 cup Laird Superfood Homemade Coconut Milk (instructions below)
2 large frozen ripe bananas (peeled before freezing)
1/2 cup raw cashews
1/4 cup Laird Superfood Cacao Creamer
2 tbs raw cacao nibs
Directions
To make Laird Superfood Homemade Coconut Milk, add 6 tablespoons of Laird Superfood Unsweetened Creamer to 1 cup of hot water. Stir and chill in the fridge for a few hours or overnight.
Add ingredients to a blender except for the cacao nibs. Blend until creamy.
Top with cacao nibs and enjoy!
ABOUT THE AUTHOR
CATE RITTER
Cate
Ritter
is a Functional Diagnostic Nutrition® Practitioner and Contributing Editor to Laird Superfood. Cate works with individuals and corporations helping them to look, feel and perform their best. For more info visit
https://www.cateritterwellness.com/ 
Disclaimer
Cate
Ritter
, FDN-P is a non-licensed alternative health care practitioner. She is not a medical doctor. She does not diagnose, cure, or treat any illness or disease. The information provided is for educational purposes only and is not a replacement for your primary care physician.