Red Pepper Hummus Recipe with Pili Nuts
Posted on October 6, 2020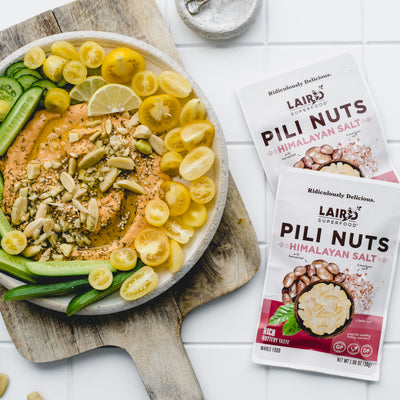 We love Pili Nuts because they are incredibly versatile! Although they make the perfect snack, they are also wonderful to use in cooking and baking! This Red Pepper Pili Nut Hummus is full of nourishing ingredients. It's the perfect nutritious snack to serve to family and friends (or simply for yourself)!
This hummus is chock full of flavorful ingredients like lemons, roasted red peppers, and garlic! Our Pili Nuts add a boost of protein and fat, giving this dip an extra boost! If you love hummus, you will LOVE this twist on it!
Makes about 2 cups of hummus, serves 6-8
Ingredients
6 cups cooked chickpeas

3 pouches Himalayan Salt Pili Nuts

3 large lemons

6 small roasted red peppers

6 cloves garlic

3/4 cup tahini

1 teaspoon cumin

Salt and pepper to taste

1 cup ice cold water
 Directions:
In a high speed blender or food processor add the chickpeas and pili nuts.

Zest and juice the lemons then add the remaining ingredients except for the water.

Blend and scrape down sides as needed, while gradually adding the ice cold water to loosen and smooth.

When ready and consistently blended, transfer to a serving dish or container and pair with fresh produce or pita chips! Enjoy!
About the Author
Monique Sourinho is a professional food stylist, photographer, and recipe developer based in beautiful Essex, Connecticut. Her passions for locally sourced food and community engagement are the driving forces behind Bee The Love, which is all about celebrating collaboration and its delicious end results.