Soothe Coffee Granola Recipe
Posted on June 29, 2021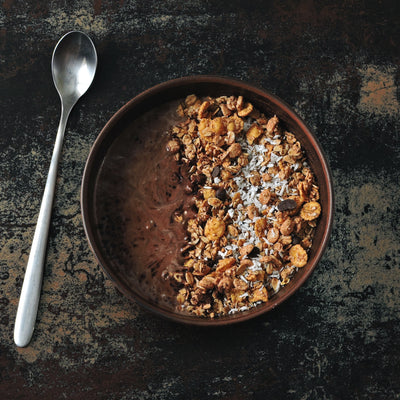 Try this easy to make homemade granola using our new Soothe Functional Coffee.
So many amazing ingredients in this new take on traditional granola. Oats, pecans and more with our special coffee flavor from Soothe. Now you can get your coffee fix in a bowl, too! 
Ingredients:
3.5 cups old fashioned rolled oats (gluten free, if desired)

¼ cup chopped raw pecans

¼ cup flax meal

¼ cup Soothe Functional Coffee grounds

¼ cup chopped Dates (pitted)

½ cup runny almond butter (like Trader Joe's Raw Creamy Almond Butter)

½ cup brown rice syrup

1 tbsp pure vanilla extract

½ tsp sea salt

2 tbsp water (to thin)
Directions:
Preheat oven to 325 degrees F.

Combine oats, pecans, flax meal, dates, and ground coffee in a large mixing bowl

In a small pot on the stove over medium-low heat, combine the almond butter, brown rice syrup, vanilla extract, salt, and water. Whisk until smooth. If the mixture seems to thick still, add additional water 1 tbsp at a time until pourable.

Pour the almond butter mixture over the oats mixture. Stir really well to ensure all the dry ingredients are moistened.

Spread the mixture in fairly even layer onto a rimmed baking sheet, but with very little, if any, space between the ingredients. This is how you'll get the nice big clumps of granola!

Bake for 25-28 minutes, shaking the pan and flipping the mixture over as best you can about halfway through.

The granola will continue to crisp up as it sits, so don't over-bake or it will burn.

Let cool before eating. Store any leftovers in an airtight container on the counter for for 3-4 days.