Strawberry Coconut Water Lemonade Recipe
Posted on August 7, 2020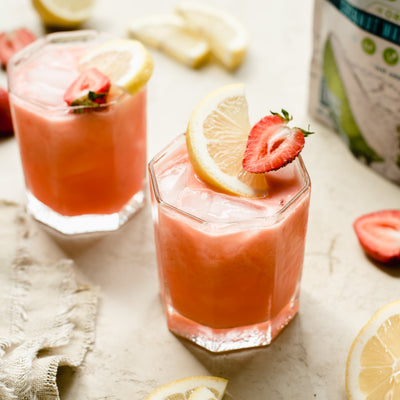 Strawberry Coconut Water Lemonade is a perfectly sweet and tart blend of fresh strawberries, lemons, and our Hydrate Coconut Water.
It only takes a few minutes to make, and is an ultra-refreshing beverage to enjoy this summer. Even better, there's no added sugar so it's a fruity drink you can feel good about serving to the whole family. 
Strawberry Coconut Water Lemonade
Serves 2
Time to Make: 5 Minutes
Ingredients
2 Tbs Laird Superfood HYDRATE
1 cup filtered water
6 small strawberries, stems removed
Juice of 1 extra large lemon
Directions
1. Add all ingredients into a blender and process until smooth and consistent.
2. Pour over ice and enjoy!


About the Author
Monique Sourinho is a professional food stylist, photographer, and recipe developer based in beautiful Essex, Connecticut. Her passions for locally sourced food and community engagement are the driving forces behind Bee The Love, which is all about celebrating collaboration and its delicious end results.