Superfood S'mores Brownie Recipe
Posted on June 2, 2021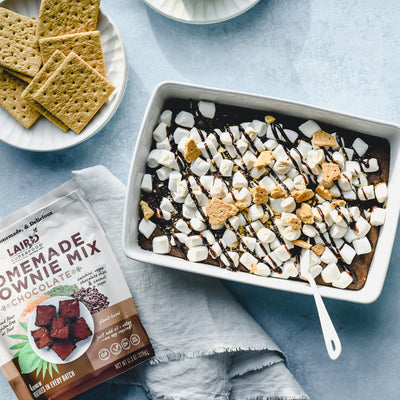 Nothing says summer like S'mores Brownies! It's a delicious spin on the classic summertime campfire treat. We created ours with a superfood twist. Our Brownie Mix sneaks veggies into the blend that kids will not even notice! We've also topped ours with vegan marshmallows to make sure the recipe stays plant-based. This treat tastes indulgent and is a surefire way to put a smile on your kiddos faces. Adults will go wild for these as well!
We've included 2 full zucchinis in this mix. That's 4 servings of veggies per batch of brownies! This blend has real, whole food ingredients like organic gluten-free oat flour, almond flour, cassava flour, and arrowroot powder. We've sweetened this mix with coconut sugar and cocoa powder. These brownies are the perfect chocolate flavor. This mix is easy to make and truly vegan, meaning there's no egg or egg substitute required. Just add oil and water, bake, and enjoy!
S'mores Superfood Brownies
Directions:
Preheat oven to 350°F. Next, line a 7x10 baking dish with 7-8 graham cracker squares.
Mix together the dry mix with the water and oil. Transfer to the baking dish and pour over the graham crackers.
Afterwards, line the top with vegan marshmallows and bake for 20-22 minutes. Allow to cool before enjoying.
(Optional) top with vegan chocolate sauce and graham cracker crumbles.
About the Author
Monique Sourinho is a professional food stylist, photographer, and recipe developer based in beautiful Essex, Connecticut. Her passions for locally sourced food and community engagement are the driving forces behind Bee The Love, which is all about celebrating collaboration and its delicious end results.