Vanilla Chia Pudding Recipe
Posted on February 18, 2020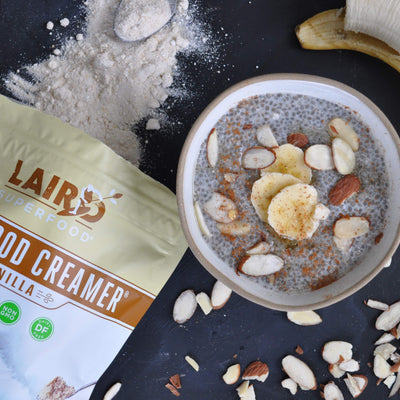 This chia pudding recipe is the perfect option when you need an easy breakfast that will keep you fueled to tackle a big morning!
Our Vanilla Superfood Creamer adds a superfood boost to this recipe, with ingredients like Aquamin and Extra Virgin Organic Coconut Oil! We especially love this recipe because you can throw it together the night before, so your breakfast will be ready-to-go when you wake up!! Feel free to play around with the recipe, adding fruit or nuts, to make it your own!
Ingredients:
3 tablespoon chia seeds
1 tablespoon pure maple syrup
1 cup unsweetened almond milk (or milk of choice)
1/4 teaspoon pure vanilla extract (optional-for extra vanilla flavor!)
1.) Combine all ingredients and let sit in the refrigerator overnight. Once ready to eat, give another good stir and top with nuts, cinnamon, and/or fruit.
2.) Enjoy! 
**Tip: If you enjoy a smooth pudding rather than the tapioca-like texture of chia seed, pop in the blender after the chia has absorbed the milk.