Vegan Pumpkin Bread Recipe
Posted on August 25, 2020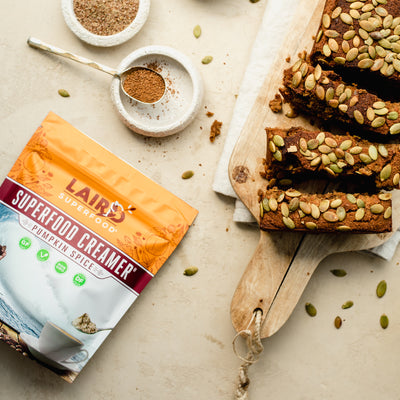 This vegan pumpkin bread is a delicious way to celebrate the changing season! It's made with simple ingredients from your pantry and bakes up perfectly moist and flavorful.
It's made with our seasonal Pumpkin Spice Superfood Creamer which adds a boost of superfood ingredients like Organic Extra Virgin Coconut Oil and Aquamin! It's also sweetened with Organic Coconut Sugar which is an epic low-glycemic alternative to table sugar.
Vegan Pumpkin Bread
Makes 1 Loaf 
Time to Make: ~75 Minutes
Ingredients
2 cups pumpkin puree

1 ripe banana, mashed

1/4 cup Organic Coconut Sugar

3 tablespoon Laird Superfood Pumpkin Spice Creamer

3 tablespoons flax meal

1/2 teaspoon baking soda

1/2 teaspoon baking powder

1 teaspoon ground cinnamon

1/2 teaspoon ground nutmeg

1/2 teaspoon ground allspice

1 teaspoon Himalayan salt

1/2 cup coconut oil (or 1 stick vegan butter)

3 cups almond flour

3 teaspoons vanilla extract

2 teaspoons pumpkin seeds
Directions
Preheat the oven to 350°F.

In a large bowl, mix together all ingredients until combined and consistent.

Smooth the mixture into a loaf pan and transfer to the oven.

Bake for 45-60 minutes or until it passes a toothpick test.

Afterwards, remove from the oven and allow to cool before removing from the pan.

When ready, slice, share and enjoy! :)
About the Author
Monique Sourinho is a professional food stylist, photographer, and recipe developer based in beautiful Essex, Connecticut. Her passions for locally sourced food and community engagement are the driving forces behind Bee The Love, which is all about celebrating collaboration and its delicious end results.