Silky Sweet Vegan Salted Caramel Sauce Recipe
Posted on December 18, 2020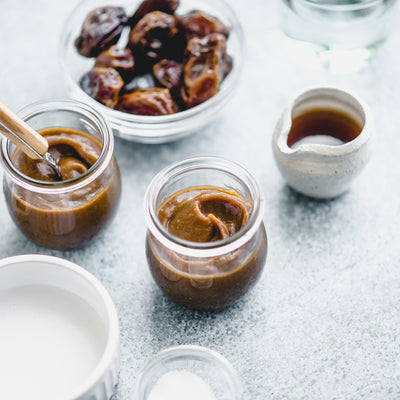 Delectably sweet and luxuriously silky caramel sauce is just a few ingredients and a couple minutes away! This amazing caramel sauce is sweetened with Dates. They add a rich caramel-y flavor that you'll love. It seriously tastes just like your favorite caramel sauce.
This caramel sauce is super versatile. It's perfect to drizzle onto apple slices, lattes, cookies, and beyond. It takes minutes to make, so you can whip it up whenever you're craving something sweet but don't want all the processed sugar typically found in traditional caramel! 
Salted Caramel Sauce with Dates
Makes 1 cup of caramel sauce

For the base:
12 Dates, Pitted

2 cups Hot water

1/3 cup Barley Malt Syrup or Brown Rice Syrup

1/3 cup Full Fat Coconut Milk

½ tsp Vanilla Extract

1 tsp Sea Salt
Directions:
1. Soak pitted dates in hot water for 15 minutes.
2. Drain then add to high speed blender with all remaining ingredients
3. Blend until smooth & consistent, transfer to an airtight jar. Enjoy!
About the Author
Monique Sourinho is a professional food stylist, photographer, and recipe developer based in beautiful Essex, Connecticut. Her passions for locally sourced food and community engagement are the driving forces behind Bee The Love, which is all about celebrating collaboration and its delicious end results.