Refreshing Watermelon Pizza Recipe
Posted on April 27, 2021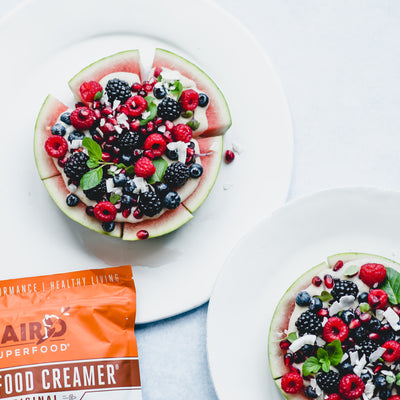 Let us introduce you to our new favorite springtime treat: Watermelon Pizza.
It's a perfectly sweet surprise to serve family and friends. We sliced up a beautiful watermelon and topped it with a delicious superfood frosting (elevated with our OG creamer!), and topped it all off with fresh berries, coconut shavings, and mint! Feel free to customize it with your favorite fruit or even a chocolate drizzle. There is no wrong way to do it.
Watermelon Pizza
Serves: 2-3
Ingredients:
🍉1/4 cup Laird Superfood Original Creamer
🍉2 tablespoons maple syrup
🍉1 cup coconut yogurt
🍉1 small watermelon
🍉1/4 cup strawberries, quartered
🍉1/4 cup blueberries
🍉1/4 cup raspberries
🍉1/4 cup pomegranate seeds
🍉 (Optional) mint leaves, coconut flakes and micro greens
Directions:

1. Slice the watermelon into 2" rounds, then cut into wedge pieces.
2. Lay the watermelon bases on a serving platter or dishes, then in a small mixing bowl combine the yogurt, creamer, and maple syrup until consistent.
3. Spoon the mixture over the center of the "pizzas" and garnish with remaining ingredients. Enjoy!
About the Author
Monique Sourinho is a professional food stylist, photographer, and recipe developer based in beautiful Essex, Connecticut. Her passions for locally sourced food and community engagement are the driving forces behind Bee The Love, which is all about celebrating collaboration and its delicious end results.