Laird Superfood Award of Excellence
Posted on November 12, 2019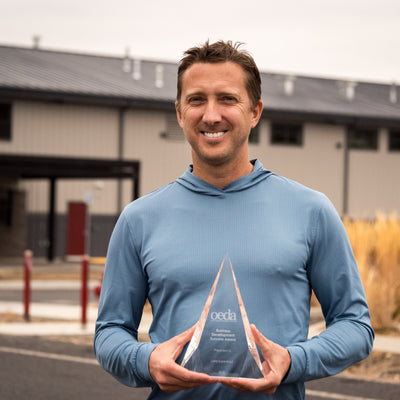 We are excited to announce that we received an Award of Excellence in Economic Development from the Oregon Economic Development Association (ODEA) in Salem, Oregon on October 27th!
The annual awards recognize Oregon's best economic development programs, projects, partnerships, marketing materials, and the year's most influential leader, for their efforts in creating positive economic development in Oregon communities.
Sisters, Oregon, is home to the world headquarters of Laird Superfood. It is a small town with just over 2,000 inhabitants. In 2015, our company launched with just three employees. As Laird Superfood continues to grow, we are quickly becoming one of the largest companies in the town. With that presence comes great responsibility, and our company is passionate about ensuring that we support and give back to the town we call home. Today, Laird Superfood employs over 100 people and occupies a brand-new 20,000-plus-square-foot state-of-the-art campus.
Our CEO, Paul Hodge, accepted the award.
"It is great to be recognized for the money and hard work invested in establishing Laird here in Sisters," Hodge acknowledged. "Our goal is to create jobs that will help balance the economy of Sisters."
Caprielle Lewis, Sisters-Area EDCO Director, says, "This award recognized, at the state level, what can be achieved in rural communities when public and private entities collaborate. They have proven that launching a worldwide brand in a small town can be done and done successfully. Hats off to Laird Superfood!"
We're honored to accept this award and we are excited to continue working hard to develop our company here in Sisters, Oregon.