Clean Eating Made Easy - 6 Easy Recipes
Posted on February 22, 2019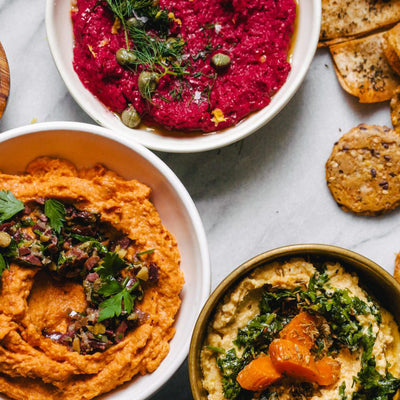 We've rounded up 6 recipes from some of our favorite clean-eating partners to give you a work week's worth of easy eats!
Eating paleo but missing your morning bowl of cereal? 
Try this nutrient-packed Turmeric-Mango Smoothie Bowl topped with grain-free granola from Steve's Paleo Goods.
Vegetarian Split-Pea Dal, courtesy of Platings and Pairings, can easily be made vegan.
This simple dish comes together in less than an hour, making it the perfect weeknight meal.
Dying for a sweet treat in the midst of your eating clean routine? We've got you covered! 
This Peppermint Mocha Frappé from Bittersweet uses Chocolate Mint Superfood Creamer and a few simple ingredients to create the much-loved minty blended sensation.
Not only is it a wholesome protein-packed snack, hummus is a breeze to make at home! 
Try one of five clean, homemade takes on this plant-based staple from Wholehearted Eats.
A great condiment is an easy way to change up your recipe routine!
Try this 3-ingredient, 5-minute Paleo Red Pepper sauce from our friends at Real Simple Good. 
When a cold day is calling for a big bowl of noodle soup to warm you up, don't resort to the instant variety.
Try this vegetable-rich Thai Curry Noodle Soup from Every Last Bite. Zucchini noodles in soul-warming broth (in only 25 minutes).
Find something you love? Be sure to check back with our Recipe section often for recipes using Laird Superfood products! Follow us on Instagram and Facebook for more clean eating inspiration.