Fuel for What Fuels You x Heidi Lieberman
Posted on March 30, 2021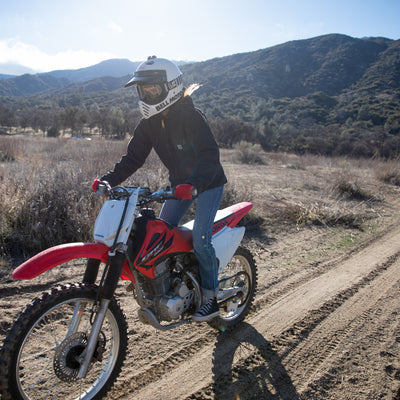 Heidi Lieberman, the creator behind the beloved jewelry brand
 

Honeyfox, meticulously makes all of her pieces by hand. Silver coins and arrowheads have been a long time theme in her work but recently she has ventured into custom silver pieces as well. She is deeply influenced by adventures in nature on her dirt bike, the American West, and her country roots.

We recently spend the day with Heidi to better understand the daily rituals that help keep her charged to run a small business on top of her other passions. Including practices like mediation and spending time in the outdoors, she turns to our plant-based products to help stay charged. Her favorites? Boost Mushroom Coffee and Renew Protein Powder. Learn more about Heidi below, and shop her favorite products at the bottom.

Hi Heidi! Real quick, can you describe who you are, what you do in a sentence?

I'm a young hearted, nature loving lady silversmith living for happiness, love, and adventure.
How long have you been making jewelry? How did you get started?
I've been making jewelry for a decade but I just started silversmith work in the last two years. When I first started, I was really looking for a creative outlet. My Grandma was a silversmith and I always wanted to do what she did.
What is influencing your designs these days?
These days my work is heavily influenced by my beautiful surroundings and the long line of motorcycle riders in the family. I use a lot of numbers and initials to make pieces one of a kind. I love being able to make custom, classic pieces for people that no one else will have and will never go out of style.
What daily rituals are most important to you and why?
It is very important for me to start each day right. If it's cold out, I start a fire and read by it for a while. If it's a warm day, I'll sit in the sun and do the same, before heading down to my shop to work. I also make it a major priority to eat good food and get outside to do something physical like taking a walk/hike, splitting wood, or riding my dirt bike.
Last but not least, what is your favorite Laird Superfood product? 
My favorite Laird Superfoods product is the 
Renew Protein Powder
. I'm always looking to get more protein and I love that this product is plant-based and tastes great. Plus it's super easy to add to any smoothie!