Fuel for What Fuels You x Josh Berry
Posted on March 3, 2021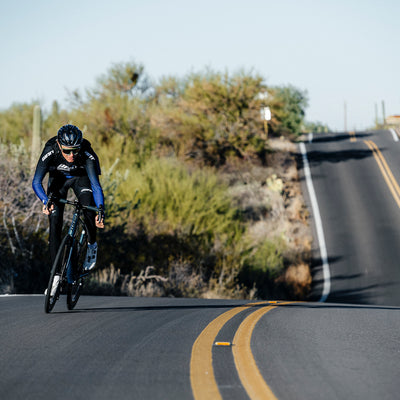 After years of a professional road racing career, Josh Berry saw an opportunity to join the epic gravel racing community. Now a member of the Giant Factory Off-Road Team, Josh continues to push his limits and chase after new and inspiring experiences. We were stoked to hit the road with him for the day, and help keep him charged with our plant-based products. Read on to learn more about his Daily Ritual.
We were stoked to hit the road with him for the day and help keep him charged, the Laird Superfood way.

Hey Josh! Real quick, can you describe who you are, what you do in a sentence?
I am limit-breaking, adventure-seeking cyclist with a capacity to absorb various aspects of the sport I have participated in for life. I push myself beyond perceived limits and bask in the challenge of moving forward in a new space. I race a bicycle.
Can you share a bit about your journey into the world of gravel racing? 
I ran out of roads to ride as a kid and without the funds to get a different bike for further adventures I took the old road bike I had beyond its limits. I became a professional road racer and knew I needed to climb far-off mountains like I did as a kid. I designed bikes to make it happen that my friend welded. Eventually, a race on similar "roads" came about (Belgian Waffle Ride), and I won it on my road bike. I continued to be a part of the evolution of equipment, but I remained focused on road racing until I quit a few years ago. Then, on a whim during a ski trip, I signed up for the 200-mile gravel race now called Unbound with my friend, so that we wouldn't get fat after quitting racing. I nearly won the event. Little did I know how big this gravel racing thing was becoming, and the wave of support grabbed me. I am riding it now and trying to win that 200-mile event this next time. 
How do you push through tough rides?
I focus on exhaling and being in the moment, and on the long climbs I focus on my pedal stroke technique. It is a mental distraction that some may call meditation. Breathe, be smooth, be still. That is where I started, but now I am so deep into this life that I lust for a limit and thrive on figuring out what my body does when I cross the line and keep pushing. I also rely on fuel that is there to help me push to the next stage beyond that. I have not made it that deep yet but one of these days  
What keeps bringing you back to the bike?
Truthfully, I believe I keep coming back to the bike because it is what I know. Walking is harder than riding my bike. I was five years old when I first started racing my bike, and now, twenty-five years later, nothing else sticks like the bike does.
Do you have any daily rituals that are a key part of your training regimen?
Maximizing sleep time and quality, or as my girlfriend would say, always sleeping in. I focus on relaxing each part of my body before bed. Resting as hard as you train is the real trick. I also time my nutrition for events. Some mornings are fasted/fat-burning focused rides. Other times, I wait four hours past a meal to know I have my glycogen stores full before burning through the.  On intensity days, I eat close to efforts and throughout the efforts. Training these different fuel sources are the next level in endurance competition.
What is your favorite Laird Superfood product and why?
Functional Coffee and the Original Superfood Creamer combo are the best bang for performance out there. I feel great, focused and ready to burn the right fuel, right away. Plus, the coconut is like a taste of vacation every morning.