Introducing Mushroom Coffee by Laird Superfood
Posted on May 21, 2020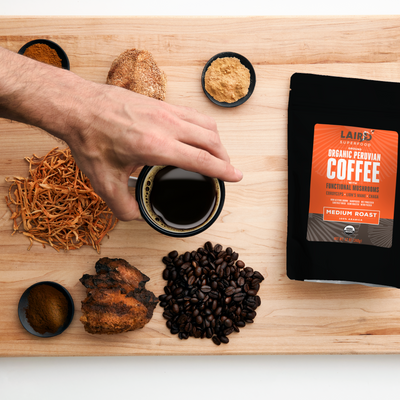 We are so excited to introduce a brand new product: Mushroom Coffee! Laird Superfood Ground Coffee with Functional Mushrooms is crafted with premium, certified organic Peruvian coffee beans and is available in Medium Roast and Dark Roast. 
Our hand-picked beans are:
Grown at high altitudes in Peru.

Slow-roasted in small batches to ensure a consistent, rich, and bold flavor profile.

Wet-processed and carefully-dried to ensure maximum flavor preservation.
This special coffee blend takes your morning cup to a new level with the inclusion of three of our favorite organic functional mushrooms: Chaga, Lion's Mane, and Cordyceps. The abundant properties of functional mushrooms are thought to contribute to overall wellness.
Learn more about the three functional mushrooms in this epic blend...
Cordyceps:
This mushroom sprouts up in fascinating fingerlings and is considered the "Fountain of Youth" in the mushroom kingdom.

This may be why this mushroom is loved by high-endurance performers of all genres.
Chaga:
Laird's favorite functional mushroom
Referred to as "Chaga Gold" for its valuable properties, this mushroom grows mainly on the bark of birch trees in cold climates. 
Lion's Mane:
This beautiful mushroom grows in a clump of long spines like a lion's mane, on dead or dying trees such as oak or maple.
Used in Eastern cuisine and medicine for centuries, this edible mushroom is growing in popularity as a functional food and is prized for its polysaccharides, as with all functional mushrooms.
Try out our new Mushroom Coffee in medium or dark roast to seamlessly incorporate functional mushrooms into your daily ritual!