Picky Bars has joined the Laird Superfood family!
Posted on May 4, 2021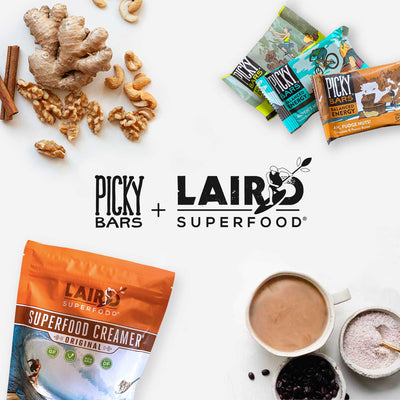 We are thrilled to welcome Picky Bars into the Laird Superfood family. Founded by three incredible athletes who are true to their mission and vision, Picky Bars aligns with our core values of trust, authenticity and our ethos of prioritizing high-performance products and sustainability, not just for athletes, but for everyone in everyday life.
With Picky Bars coming together with Laird Superfood, both brands are empowered to grow and expand in ways that were previously unattainable. Together, the two brands will continue to bring great tasting, accessible, and innovative better-for-you food options into your home.
The complementary pillars of the two companies made the decision to join forces an easy one:
Shared values: clean ingredients, balanced nutrition and an active lifestyle
Shared Central Oregon Community impact: we invest our growth in Central Oregon, providing more opportunities for our current employees, and bringing additional jobs to the area
Authentic and shared heritage: the people behind the brands - Laird, Gabby, Paul, Jesse, Steph, and Lauren - are purpose driven individuals who started their respective companies with the intention to fill a need. All founders are dedicated to creating positive change in the food business. 
We are so excited about the future of the Laird Superfood and Picky Bars. We cannot wait to bring new and delicious products to our valued community. 
We are kicking off this relationship with three new and delicious bundles. Click here to see them all! 
Watch the full story here: