What's in Your Functional Coffee?
Posted on August 10, 2021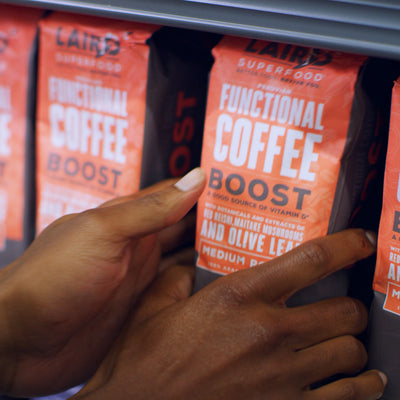 You've seen it at the grocery store, at the coffee shop, maybe even in your home - coffee with functional ingredients - but do you actually know what's in there? 
Have you ever looked at a label and found yourself with questions? Where was this grown? What are the benefits? How does it taste? Were the coffee beans grown organically?
We've got answers! 
Here at Laird Superfood, we don't keep you in the dark. All of our Functional Coffee blends start with high-quality coffee beans organically grown in Peru. The beans are hand-picked, wet processed and carefully dried, then roasted to perfection to ensure maximum flavor.
Now, we know that no two days are the same, so why drink the same boring coffee everyday? Our Functional Coffee line contains four unique blends that have been specially formulated so you have the freedom and flexibility to choose what kind of functional ingredients and botanicals you're getting with your morning cup!
Our Boost blend lets you level up with plant-derived Vitamin D from mushroom extracts, while our Focus blend offers some of our favorite plant-powered ingredients like rhodiola, Lion's Mane and coffee cherry. 
Love your morning cup, but your stomach doesn't? We have a coffee for you! Our Soothe blend contains stomach-friendly ingredients like marshmallow root, cardamom, and blueberry, and has a brilliant and complex flavor profile. 
Finally, we have our classic Coffee with Functional Mushrooms blend where we've added in the power of Chaga, Cordyceps, Lion's Mane, and Maitake mushrooms, which have been valued in Eastern medicine for hundreds of years.
All of our blends are packaged with oxygen-reducing technology to ensure long-lasting freshness, and have been curated to blend perfectly with any one of our functional creamers for a truly elevated coffee experience.
You see, we think that harnessing the power of Mother Nature is the best way to energize your morning, and we make it easy for you to do just that.
Better Food. Better You. That's our promise.