Gluten Free Chocolate Mint Crinkle Cookie Recipe
Posted on November 13, 2019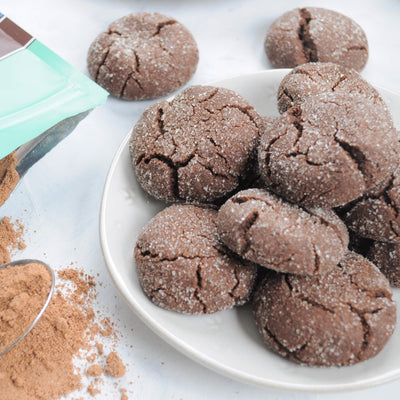 These Chocolate Mint Crinkle Cookies are the perfect holiday treat. They are gluten-free and vegan, but do not lack in flavor! Sneak a few into your kid's lunchbox or bring them to a holiday potluck—they are sure to be a hit!  
This awesome recipe comes from Itty Bitty Epicure. Not only are they delicious, but they are also made with real ingredients you can feel good about! Their delightful minty flavor comes from our Chocolate Mint Superfood Creamer. 
Makes about 20 cookies
Time: 30 minutes
Ingredients:
1/2 cup vegan butter 
1/2 cup white granulated sugar (plus extra for rolling)
1/2 cup brown sugar 
1 cup gluten-free all-purpose flour
2/3 cup unsweetened cocoa powder
1 teaspoon baking soda
1/2 salt
1 tablespoon plant-based milk of choice (I used almond to keep vegan)
Instructions:
1. Preheat oven to 350 degrees F.
2. Cream the vegan butter and sugars together with a mixer. 
3. In a separate bowl, mix flour, cocoa powder, baking soda, salt, and
creamer
.
4. Combine dry with wet and add the last ingredient - plant-based milk.
5. Use tablespoon to scoop cookies, roll in a ball, and then roll in granulated sugar.
6. Place on a baking sheet and flatten a bit with palm, as the cookies bake in a similar shape.
7. Bake for about 8 minutes.