Plant-Based Cinnamon Chia Chaga Balls Recipe
Posted on November 3, 2019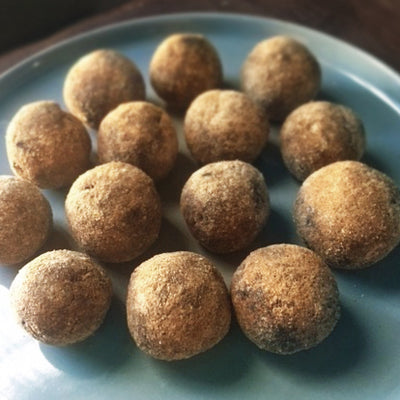 Fuel up for a work-out or enjoy the perfect afternoon snack with these amazing Cinnamon Chia Chaga Balls! They have an extra kick from our Performance Mushrooms, which adds a boost from energizing Lion's Mane, Chaga, Cordyceps, and Maitake mushrooms! 
This awesome recipe comes from Yvett Johnson of Dance Body. Not only are they delicious, but they are also made with real ingredients you can feel good about! Throw them in your lunch for work, or grab one as your heading out to a workout class.
Find the recipe below, and the link to purchase Performance Mushrooms. 
Makes 10-12 balls
Time: 30 minutes
Ingredients:
1 cup of pitted dates
1/3 cup chia seeds
1/4 almonds
1 tbsp coconut oil
1 tbsp Laird Superfood Performance Mushrooms
1/2 tbsp cinnamon
A pinch of salt
1/4 cup hot water
Instructions:
1.) In a blending device, grind almonds, then add chia seeds and blend.
2.) Add remaining ingredients, water, and blend. If the batter is too dry keep adding hot water (the density of the dates can affect the amount of water needed).
3.) Once the batter is smooth and even, use a tablespoon to roll out balls with your hands.
4.) Once balls are made, toss in a bowl of almond meal and cinnamon, creating a nice coating.
5.) Store in the fridge and enjoy!