Coconut Coffee Ice Cream Recipe (with Functional Mushrooms!)
Posted on May 22, 2020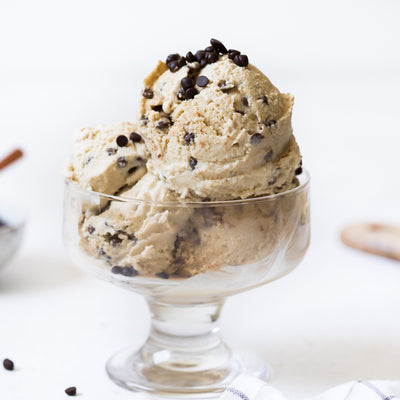 We partnered with our friend, Anett, to dream up the perfect plant-based ice cream recipe!
It will satisfy your sweet tooth and also give you a little boost with the inclusion of our Mushroom Coffee! Our delicious coffee is sourced from organic farms in Peru, and has an extra spark from three epic + flavorless functional mushrooms: Chaga, Lion's Mane, and Cordyceps.
Trust us, your whole family will love this flavor and you can feel good about all the superfood ingredients in the mix. It's the perfect treat to make to kick off summer.
Enjoy!
Coconut Coffee Ice Cream
Serves 6-8
Ingredients:
1 cup raw cashews
1 13.5-ounce can of full-fat coconut milk 
1/2 cup pure maple syrup
1 cup brewed Laird Superfood Mushroom Coffee
2 tsp vanilla paste or pure vanilla extract
1/4 tsp fine-grain sea salt
1/2 cup vegan mini dark chocolate chips, plus more to sprinkle on top(optional)
Directions:
1.) Put all ingredients except for the chocolate chips in a high-speed blender and blend until completely smooth, about 1-2 minutes on high speed.
2.) Pour mixture into your ice cream maker and churn until you get a soft-serve consistency, about 20-40 minutes depending on the machine. Add the chocolate chips and churn for a further 2-3 minutes.
3.) Transfer the mixture to a loaf tin and cover with parchment paper or plastic wrap. Freeze for 2 or more hours, until the desired consistency is reached. Once completely frozen, you will need to remove the ice cream from the freezer about 15 minutes before serving to soften it up.