Plant-Based Cranberry and White Chocolate Chip Cookie Recipe
Posted on November 9, 2020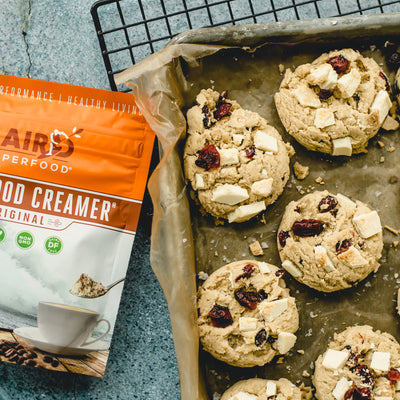 It wouldn't be the holiday season without fresh baked cookies eaten straight off the pan! These Cranberry and White Chocolate Chip Cookies are a fun recipe to try if you're tired of the same old chocolate chip cookie! 
Not only is this recipe seriously delicious, but it's also plant-based and has a boost from our

Original Superfood Creamer

! This best-selling creamer adds a superfood boost from the Organic Extra Virgin Coconut Oil and Aquamin. 
Happy baking!
Cranberry and White Chocolate Chip Cookies
Makes 10-12 Cookies
Ingredients:
2 vegan egg replacements
1/2 c. Vegan butter (room temp)
1/2 c. Maple Sugar
1/4 c. Laird Superfood Creamer
1.5 c. All Purpose GF flour
1 tsp. Baking Powder
1 tsp. Salt
1/2 c. Vegan White Chocolate Chips
1/2 c. Craisins
Directions:
Preheat oven to 350°F.
Mix vegan egg replacements, vegan butter, maple sugar, and Laird Superfood Creamer in a bowl together, until creamy.
Add flour, baking powder, and salt and stir until just combined.
Add in the chocolate chips and craisins and mix just until combined.
Scoop into large balls (you'll want to use about 2-3 Tbs of dough per ball, you can eye-ball this), and then gently flatten and shape and transfer to a lined baking sheet.
Bake for 20-25 mins.
Enjoy (we highly reccomend trying them while they are still warm from the oven)!
About the Author
Monique Sourinho is a professional food stylist, photographer, and recipe developer based in beautiful Essex, Connecticut.Her passions for locally sourced food and community engagement are the driving forces behind Bee The Love, which is all about celebrating collaboration and its delicious end results.